Fewer clicks, enhanced accessibility, a simple layout, multitasking capacity, and transparency are all necessary for electronic health records.
This is why Power Your Practice has assembled a buying guide reflecting these qualities to help you find the best solution for your practice. Too many vendors ignore their target audience's needs, and we don't want you falling into that trap.
To simplify your search, we've compiled the all data you'll need to make an informed purchase – in one tidy location.
Here is your ultimate "how to" EHR buying guide. Use it to inform yourself before facing salespersons, your practice, and most importantly, your patients.
Preliminary Research
Become as educated on electronic health records as possible. This allows you to ask hard-hitting questions and ensure that the system you choose is a fit for your practice.
The Basics:
1. What's the Difference Between EHR and EMR?
2. Electronic Health Records: Safer Than Paper?
3. 3 Major Physician EHR Concerns
4. Can EHRs Streamline Health Care?
5. How Physicians Can Use Data to Work Smarter, Not Harder
6. Beyond the EHR: Advancements Toward a Data-Driven Healthcare System
7. 3 Approaches to the EHR Patient Control Debate
8. Specialty Specific EHRs: What Side Are You On?
9. EHR Interoperability: Why Is It So Difficult?
10. More Than an IT Project? Four Common EHR Misconceptions
11. 5 Steps to Buying the Right PM/EHR Software
12. What Makes Free EHRs Expensive in the Long Run?
13. Speciality Specific EHRs: What Side Are You On?
14. What Patients Like About EHRs
Meaningful Use:
1. ON DEMAND WEBINAR: Want to Know How Meaningful Use Gets Easier? Don't Wait Any Longer
2. Make Meaningful Use Work For You: Choosing a Program, Documenting and Auditing
3. 5 Focus Areas for Providers Moving Toward Stage 2
4. Meeting the 3 Trickiest Meaningful Use Core Objectives
Mobile:
1. How to Determine if Your EHR is Useful
2. Bridging the Gap Between Your Desktop and Mobile EHRs
Preparing for Your New System
Start preparing your practice for the transition ahead of time – don't wait until you've made a decision! Preemptive groundwork helps you spot needs and difficulties electronic health records can solve.
1. 4 Ways to Smooth Your Paper-to-EHR Transition
2. Avoid Unexpected EHR Costs
3. 5 Essentials of an Effective EHR System
4. How EHR Usability is Defined and Designed
5. 5 EHR Demo Tricks to Avoid
6. What You Need to Know About EHR Notes and Templates
7. What Makes Your EHR User Unfriendly?
Planning
Begin planning for training and implementation after crafting a shortlist of systems you like most. Review notes from your demos, go over practice workflows and processes and establish the functional and technical requirements your electronic health record needs to fulfill.
1. Are Cloud-Based EHR Infrastructures Better?
2. Hidden Costs of Client-Server EHRs
3. 5 Advantages of a Cloud-Based EHR for Small Practices
4. How an EHR Impacts Practice Processes and Workflows
5. EHR Checklist: Functional and Technical Requirements
6. Organize Your Efforts: EHR Planning Task List
7. 10 Reference Questions to Ask About an EHR Installation
8. Using Change Management Techniques to Ease EHR Transition
Keep In Mind: Implementation and Training
It's never too early to keep implementation and training in mind. In fact, considering the challenges that arise once you choose an electronic health record will both give you a better understanding of what you need and help make the transition a breeze!
1. 5 Tips to Migrate Your Office to EHR
2. 7 Questions to Maximize EHR Training
3. 4 Questions to Ask Before EHR Implementation
4. How to Support Your Staff During the EHR Adoption Process
Additional Resources:
Introduction to Medicare EHR Incentive Program for Eligible Professionals
ONC Resources on Meaningful Use and EHRs
Stay tuned for new additions to the guide in the coming weeks and feel free to contact us if you feel we've left anything out. Good luck!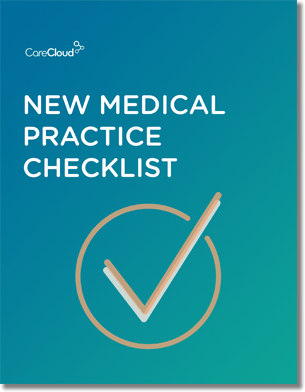 Do you know what you need when setting up a new medical practice?
Get our New Medical Practice Checklist
Download Now!