Your practice has run smoothly for years. Upheavals are risky – no one wants to disturb a well-oiled machine. If it ain't broke don't fix it, right?
Sorry to break it to you, but it's broken, just not in the traditional sense. Recognizing that a system is outdated doesn't have to be negative – the earlier you acknowledge this, the more preventive your action will be in nature and the easier EHR adoption will be.
We can also agree that preventive action is better than reactive patchwork, so switching to an EHR sooner rather than later is a wise decision, albeit a daunting one. You prescribe prevention to patients – no cholesterol, no smoking, decrease physical inactivity. It's time to heed your own advice.
The question is where to start. What calendars do you use? What about legacy documents? Should all features of the EHR be learned at once? We tend to think a smooth, gradual transition is the best approach.
Think of EHRs as 'enhanced' paper, with a switch in interface from the tactile, pen, and pencil format you've been accustomed to since time immemorial to a point and click (and sometimes touchscreen) interface that offers enhanced project management solutions.
Your EHR is still like paper, only now it reduces pointless costs and virtually thinks for itself. Below are four ways to smooth your practice's transition away from paper.
Plan, Plan, Plan
Define your practice needs. Focus on short-term and long-term goals. Long-term goals tend to be more ambitious – make plans for bringing in patients, adding new providers, contingency of existing providers, and perhaps even adding a location at your practice.
Short-term goals tend to be more difficult to pinpoint and often require a bit of micromanaging. For one, think of ways to optimize your workflow after mapping it. For more information on mapping your practice workflows, click here.
Take this opportunity to define your team as well. Make your staff members part of the EHR transition team. By working together you can minimize the resistance that often springs up during implementation.
All areas of your practice should be represented, from providers and front desk staff to billers and the medical records team. You should also consider assigning supervisory responsibilities to a member of your clinical team, who will use the new system the most.
Lastly, ensure your physicians are involved. No matter how busy, all physicians at your practice should undergo EHR training to save time. And money (they're virtually synonymous anyway).
Take Your Time
While it depends on your practice's specialty, chances are days aren't too slow-paced around the office. Proper implementation of an EHR does take time, patience and meticulousness. You want to do it right the first time. Would a heart surgeon want to repeat a transplant because of a hasty first round?
First, physicians are intelligent and educated, but no one can be expected to memorize every detail of every EHR function. It's essential to have extensive knowledge about the more rudimentary functions of the EHR and allow that knowledge to help you naturally unravel the rest of the system's features.
It's recommended that you reduce your patient load by about 25% during the first two weeks of implementation. While it adds to EHR costs, lightening your load will reduce staff and patient pressure.
Scared of an Empty EHR?
You're an established practice. Some patients have been receiving treatment at your office for years, possibly decades. So an empty EHR may not seem menacing to an upstart practice, but for you, the effects could be dastardly.
This is the case, of course, unless you organize yourself early. Bulk uploading is harrowing but important to maintain the integrity of hundreds – even thousands – of patient records. Think about beginning with your billing system. Transfer patient information from either your in-house or outsourced service to your EHR. This is step one.
Step two requires altering the data you first uploaded since the EHR will serve as the primary living space for all patient health information. All adds and edits go straight into the EHR now. So, if the billing system is not linked to your new EHR, billers will have to update patient information manually as the bills are processed.
Old Paper Records
Do you trash or recycle them? Or just let them gather dust in some closet that smells like an old university library?
None of the above. It's best to scan the documents into your new EHR in a timely, phased manner. You can use the old chart along with the e-chart, providing side-by-side comparisons for your patients.
However, once your go live with your EHR, forget paper charts existed. All information will be input into the EHR, and therefore charts will also live and be produced within the system. Paper charts are used only as a reference, and once you've extracted the patient information you need from a file, feel free to retire it.
Moving to a digital platform is a course-altering decision, from moving patient demographic data to using a new calendar for appointments. Once your practice's information is in the EHR and your staff is comfortable with the interface, however, the possibilities for enhanced patient care and practice growth are virtually endless.
What do you fear about the paper-to-EHR transition?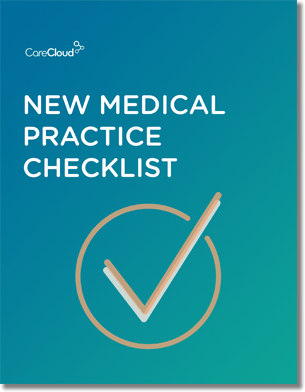 Do you know what you need when setting up a new medical practice?
Get our New Medical Practice Checklist
Download Now!