There is a ton of hype around mobile these days, and healthcare doesn't want to get left behind. It goes beyond just the popularity of smartphones among both doctors and patients or the industry's fascination with Apple products.
Healthcare is recognizing that as its jobs become more portable, health IT needs to step up to the plate and deliver efficient solutions – not just virtualized, makeshift versions of existing desktop applications.
Going mobile does not call for repurposing. It's a brave new world in the field of healthcare technology, so we've outlined features that make mobile EHR systems useful.
Appointment Scheduler
When making any sort of plans – family, work, friends, events – you first consult with a calendar. Likewise, the appointment scheduler is the starting point of any successful electronic health record.
It's a familiar concept, but not necessarily a simple one. If it was, every EHR vendor would succeed, when in reality, most appointment schedulers are clunky and devoid of customizable options. Look for one that optimizes your workforce, which often depends on what kind of organizational needs your specialty requires.
Charting
Naturally, no mobile EHR should come without charting capabilities. Look for a system that will present all charting options within one or just a handful of screens, so you don't have to navigate through a ton of windows to arrive at the information you should have at your fingertips.
The most important aspect of charting, of course, is the template. If you're not going specialty-specific with your EHR, then you'll need to understand and work with clinical templates that streamline your practice's workflow.
Not only should you look for EHRs with some templates laid out, but you should also ensure that you can create and modify your own templates, seeing as you'll need that capability in order to efficiently capture the data you need.
This is the cornerstone of your EHR. What will you attach to your superbill if you can't, well, chart?
Note Taking
The purpose of EHR note-taking isn't only to assuage old stereotypes related to poor physician penmanship but to streamline your workflow and simplify your life. A mobile EHR without note-taking capabilities simply isn't worth it.
However, things are a little complicated on a tablet. Typically, choosing an EHR with an attractive note-taking function comes down to a debate between form and narrative. But the onscreen keyboard on an iPad, for instance, isn't nearly as comfortable as its physical counterpart.
Look for note-taking that maximizes comfort via drop-down menus and other visible fill-in options organized in a logical fashion (by symptom, condition, and medication), as well as dictation options (Nuance's Dragon comes to mind).
ePrescribing
No mobile EHR is complete without ePrescribing functions. As a matter of fact, it seems the two should be married, seeing as one of the most outwardly tech-savvy moves you can pull on a patient is to prescribe medication on the spot without handwriting or typing a single word.
In order to do this, your mobile EHR needs to be able to access patient data and contact information while you're on call. And, of course, ensure your vendor has a relationship with an ePrescribing partner like SureScripts.
The features above are essential to any EHR, and lacking any of them makes your mobile electronic health record little more than a glorified healthcare app.
Has your practice gone mobile yet? Let us know in the comments.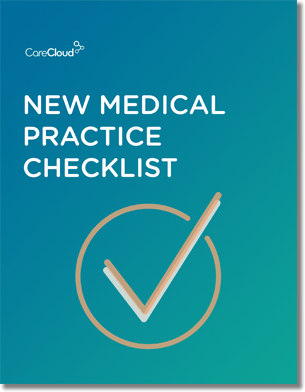 Do you know what you need when setting up a new medical practice?
Get our New Medical Practice Checklist
Download Now!