Since the announcement of the Meaningful Use incentives, many physicians have made the switch to practice management and EHR solutions. But not everyone has jumped on the bandwagon yet, or some even need to replace their current software. If that's the case, then this article is for you.
You may be one of those physicians ready to purchase a new PM/EHR solution. But be careful to not focus solely on Meaningful Use attestation. That sort of strategy may leave you with PM/EHR software that attests, but doesn't work well for your practice.
What steps should you take to ensure you buy the right PM/EHR software for your practice?
1. Identify what you like/dislike about your current system
Just because you're making a switch doesn't mean every aspect of your current system is faulty, whether it is electronic or not. Try to buy a system that addresses the problems of your current system, but also retains the aspects and features you like.
If you're too focused on only fixing your current issues, you may end up with a system that gives you an entirely new set of problems. The goal of a switch isn't just to resolve issues but to provide your practice with a better overall solution.
2. Take your staff into consideration
This is especially important for the practice management side of PM/EHR software since your staff probably deals with the day-to-day tasks of practice management more than you do.
Because they use the system on a daily basis, they will be able to tell you where bottlenecks commonly occur. When looking into a PM/EHR solution, one of the goals would be to ease these bottlenecks. This will not only reduce stress on your staff but also result in a better-run practice.
3. Conduct Research
With so many companies offering combined practice management and EHR software, only an exhaustive search will uncover the one best suited to your practice. It's important to look at some of the lesser-known companies as well. Even though a company doesn't have a big name, it may be the one that best suits your practice.
Ask fellow physicians about their software as part of your research. There are also sites like Software Advice, which feature reviews of many of the systems on the market.
Once you narrow down your list of choices, viewing demos of potential software solutions is vital. When viewing demos, key in on how the practice management and EHR components of the software work together.
4. Calculate the financials
Of course, different companies will charge different prices for their offerings. But there is also a difference in pricing based on the type of software you purchase.
There are server-based solutions and cloud-based solutions. Oftentimes it makes better financial sense for smaller practices to go with cloud-based software, due to the lower up-front cost. Cloud-based software also comes with the benefit of automatic updates instead of having to pay installation fees for updated software.
5. Look to the future
With all the recent changes in the healthcare industry, it's hard to pinpoint what the future will look like. So, you need to choose a PM/EHR system that adapts well to changes.
When speaking to representatives from potential providers, ask them questions about how their software will adjust to changes such as the ICD-10 coding update.
Also, make sure that once you purchase a particular system you don't get left high and dry. Ask about customer service and response times to software issues. You want to work with a provider that tries to shore up issues as quickly as possible.
Purchasing combined practice management and an EHR system can be a great benefit for your practice, but it can be a huge burden if you make the wrong choice. Following these steps should help you choose the right system for your practice.
---
The material and information contained on this website is for general information purposes only. You should not solely rely upon the material or information on the website as a basis for making any business, legal, medical, or any other decisions. While we endeavor to keep all information up-to-date and correct, all information in this site is provided "as is," and CareCloud Corporation and MTBC Inc. make no representations or warranties of any kind, express or implied, about the completeness, accuracy, reliability, suitability, or availability with respect to the information contained on the website for any purpose. Any reliance you place on such material is therefore strictly at your own risk.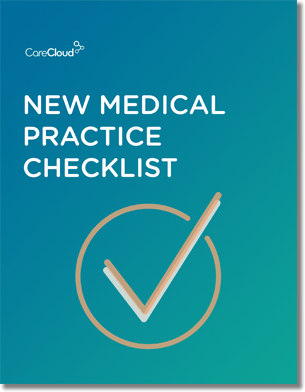 Do you know what you need when setting up a new medical practice?
Get our New Medical Practice Checklist
Download Now!