There are a number of factors to consider while preparing to purchase an electronic health record for your practice – namely the size, specialty and relationships of your practice.
While these considerations will determine many of the specifics of your planning phase and how many tasks you'll complete before deciding on a vendor, the process is similar for all practices.
Below is our planning task list, created to help your practice manage your EHR pre-purchase plan outline from a bird's eye view. The due dates are to be set by your practice, and they depend on size, specialty, and whether your EHR is client-server or cloud-based.
[do action="titled-box" title="Preparing for the Electronic Health Record" colortitle="" titleboxcontent="Provide your staff with EHR education.
Assess practice readiness.
Prepare your practice for change to overcome potential obstacles.
Identify practice benefits."]
[/do]
[do action="titled-box" title="Setting Goals" colortitle="" titleboxcontent="Review S.M.A.R.T. Implementation Goals.
Agree on goals with your practice."] 
[/do]
For more information on implementation goals, click here.
[do action="titled-box" title="Initiating and Organizing the Project" colortitle="" titleboxcontent="Identify steps to plan, select, implement and maintain.
Outline all EHR costs, from purchase through maintenance.
Establish a communications plan to document tasks listed here.
Establish how your practice will document processes involved with the project.
Outline your practice workflows and processes.
Examine opportunities for improvement.
Outline expectations for how workflows will improve.
Outline functional requirements.
Outline technical requirements.
Decide what your practice needs and wants from its system."/]
For more information on mapping workflows and processes, click here. For functional and technical requirements, visit this link.
[do action="titled-box" title="Chart Conversion" colortitle="" titleboxcontent="Decide how you will organize charts to be scanned and uploaded.
Plan and create new processes for moving forward with future digital conversion of charts."/]
[do action="titled-box" title="Selecting the EHR" colortitle="" titleboxcontent="Analyze the marketplace.
Review vendor profiles.
Watch several demos.
Analyze constructively key differentiators based on specialty and size.
Consult with an attorney before agreeing to a contract.
Plan installation of hardware and additional applications.
Narrow vendor field by conducting site visits, reference checks, ROI comparison, corporate information, contract terms and prices and legal aspects of contracts."/]
For information on vendor demo tricks, click here.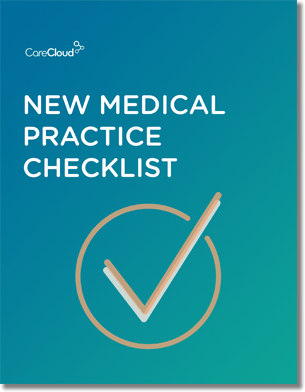 Do you know what you need when setting up a new medical practice?
Get our New Medical Practice Checklist
Download Now!