The goal of the EHR Incentive Program is to accelerate the process of EHR adoption, ease the fiscal burden of implementing the new technology for clinicians, and ultimately, improve overall health care for patients.
The program is working to drive EHR adoption according to data from the National Ambulatory Medical Care Survey, which reported that 57 percent of office-based physicians used EMR/EHR systems in 2011, with 52 percent planning to apply for Meaningful Use incentives, up from 41 percent in 2010.
To qualify for the maximum Medicare EHR incentive of $44,000, Medicare eligible providers must begin participating by 2012. Physicians who are eligible for the Medicaid EHR incentive of up to $63,750 over a six-year span can start as early as 2011 and as late as 2016. Providers who are eligible for both must choose only one.
3 Main Components of Meaningful Use
(As specified by the American Recovery and Reinvestment Act of 2009)
1. The use of a certified EHR in a meaningful manner, such as ePrescribing.
2. The use of certified EHR technology for the electronic exchange of health information to improve the quality of health care.
3. The use of certified EHR technology to submit clinical quality and other measures.
To qualify for Meaningful Use incentives, providers must show they're using certified EHR technology in ways that can be measured significantly in quality and quantity over the specified time frame.
Stage-1 Meaningful Use
The Meaningful Use criteria are broken into three steps over the next five years with only the first stage currently being fully defined. Stage-1 occurs in 2011 and 2012 and "sets the baseline for electronic data capture and information sharing," according to the CMS. Stage-2 is expected to begin in 2013, and Stage-3 should begin in 2015 with both building on the foundation set by Stage-1.
CMS Meaningful Use Stage-1 Requirements:
There are 25 total meaningful use objectives. Eligible physicians must meet 20 of 25 objectives.
There are 15 required core objectives.
The remaining 5 objectives may be chosen from the list of 10 menu set objectives.
Clinical Quality Measures
To successfully demonstrate Meaningful Use, healthcare providers must report on clinical quality measures. Clinicians are required to report on six total quality measures – three required core measures and three additional measures selected from 38 clinical quality measures.
With the recent release of proposed Stage-2 Meaningful Use requirements, attestation may seem like trying to hit a moving target. However, providers who take it one step at a time, stay flexible and start early will find it easier to adopt EHR technology, get their stimulus money and improve patient care.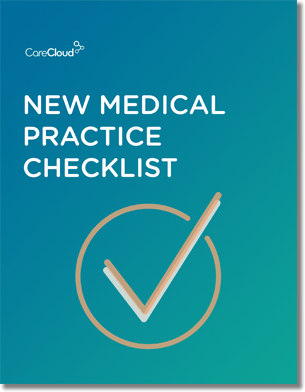 Do you know what you need when setting up a new medical practice?
Get our New Medical Practice Checklist
Download Now!