Healthcare practices utilize revenue cycle management (RCM), a financial process, to streamline all administrative and clinical activities involved in the revenue cycle to increase financial performance, boost operational efficiency, and guarantee timely and accurate payment. RCM guarantees providers receive fair and complete payment for the medical treatment they give to patients. In the fee-for-service model, claims are submitted, medical interactions are accurately recorded in the electronic health record (EHR), and payment is then processed. 
Need for RCM in Value-Based Care
The fee-for-service approach of healthcare was replaced by the more modern Value-Based Healthcare model. Value-based care is a healthcare delivery that focuses on quality care and outcomes. Its aim is to improve patient outcomes and reduce healthcare costs.  
By optimizing the relationship between payers and providers and payment structures, value-based reimbursement solutions assist in minimizing health care costs for payers. Value-based reimbursement options might take the form of software, services, or a combination of the two. The latter option enables health care software providers to provide health care organizations with the analytics and knowledge required to update current payment models. Hospitals and healthcare facilities can more effectively and fairly compensate for the services they provide to patients by implementing value-based reimbursement schemes. 
RCM in Value Based Care
Revenue Cycle Management optimization plays an important role in value-based care as it ensures improved financial performance while delivering quality care. Streamlining billing processes, maximizing revenue, and enhancing patient engagement are a few of the benefits of revenue cycle management (RCM) solutions. Revenue cycle management became increasingly elusive due to the evolving healthcare industry. Several hospitals struggled to retain income in a value-based care reimbursement model as a result of new legislation and reforms that forced the industry to shift.  
Today's technological platforms might improve interactions and communications between providers, payers, and customers, leading to a more robust revenue cycle management strategy. The use of a strong and efficient revenue cycle management software is necessary for a medical facility to maximize reimbursement. Providers should seek out vendors and systems that support both fee-for-service and value-based reimbursement reporting in order to progress healthcare revenue cycle management. RCM Optimization has thrived in Value-based care in the due to its following benefits: 
Reduced Administrative Burden
RCM optimization has reduced administrative burden by automating processes and reducing paperwork. This allows the staff to focus on providing quality care for patients. 
Increased Patient Satisfaction
Revenue Cycle Management (RCM) optimization increases patient satisfaction by improving billing processes and enhancing patient engagement. This results in better patient outcome and a more positive patient experience. 
Increase in Revenue
RCM optimization improves financial performance by maximizing revenue and reducing administrative costs. 
Better Clinical Outcomes
It also enhances clinical outcomes by allowing healthcare providers to deliver more effective care.  
CCM and RPM in light of RCM 
Chronic Care Management (CCM) services are a critical part of healthcare that focuses on the management and support of patients with chronic conditions. Conditions such as diabetes and heart disease demand ongoing monitoring, management and care to prevent any complications and improve outcomes. Chronic care management services, including medication management, care coordination, patient education, and ongoing monitoring of patient health status, require significant time and resources and providers must be compensated for the care provided.  
Remote Patient Monitoring (RPM) allows patients to use mobile devices, watches and other technologies to monitor their health from home. It includes services such as data collection, analysis, coordination between providers and patients, patient education, and allows providers to remotely monitor patient health data and intervene when necessary. Successful healthcare revenue cycle management (RCM) ensures providers are properly reimbursed in RPM.  
When it comes to CCM and RPM, revenue cycle management plays an important role in ensuring that providers are properly reimbursed for the services they provide.   RCM helps healthcare providers effectively manage their services by ensuring providers are properly reimbursed for the care they provided. This involves identifying eligible patients, documenting and billing accurately and following up on claims to ensure timely payment. 
CareCloud provides reimbursement for chronic care management and remote patient monitoring through RCM software. Providers can bill for these services using CPT codes, and revenue cycle management can help ensure that these codes are accurately documented and billed. It can also help providers manage patient financial responsibility, such as co-payments and deductibles. 
In a value-based care space, RCM cycle allows healthcare providers to make sure they are properly reimbursed for the services they provide. It is recommended to choose software that handles all the claims and processes for you so you can focus on delivering value-based healthcare outcomes.  
Conclusion
If you're thinking about outsourcing your accounts receivable and revenue cycle management activities, you're probably wondering where to start. You are at the right place. CareCloud is the leading provider of RCM services. It provides efficient, robust and responsive software for Revenue cycle management, leading to reduced costs and increased revenue.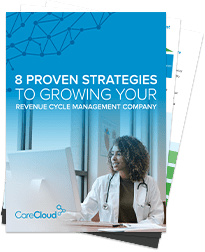 e-book:
8 Proven Strategies for Growing your Revenue Cycle Management Company
Download Now