An efficient revenue cycle management (RCM) solution helps providers and patients. A seamless solution that covers all core tasks, such as appointment scheduling, bill payments, will deliver excellent patient experience.  
Medical practices can quickly reduce administrative costs and enhance their revenue with the help of data-driven billing and collections. To make sure that the patient will have a seamless journey without any hassle, incorporating Carecloud's revenue cycle management (RCM) solution is the right option. The following are some of the main points of a successful revenue cycle management flowchart that practices need to keep in mind. 
Steps to Successful Healthcare Revenue Cycle Management Flowchart
The first step in a successful healthcare revenue cycle management flowchart is patient registration. This whole process needs to be quick and seamless. With the help of practice management software and patient portals, the practices can enhance their operational and clinical efficiency.  
Effective revenue cycle management solution that automates patient registration minimizes manual errors, one of the biggest reasons for claim denials. Incorporating the right solution can help verify patient identities, mitigate manual processes, and provide an excellent patient experience. 
Medical practices must check patients' eligibility and benefits before providing healthcare services using electronic health records (EHR) software. To enhance reimbursements, the organizations must provide patients with a complete picture of their coverage status.  
It gives them clarity about the insurance plan and if there is any other undisclosed coverage. This process will help clear bills sooner, resulting in a reduced claim denial rate, ultimately improving your revenue cycle management. With the help of the right tools, practices can provide a transparent and convenient payment experience to help achieve revenue goals. 
RCM solutions are designed by keeping data in mind. Healthcare professionals can easily verify and protect patients' identities to ensure that the correct information is associated with the right person. Accurate data entry is the key to reducing medical billing errors, improving efficiency and cost-effectiveness. 
Before starting treatment, the organizations must verify if they require prior authorizations so that a timely request can be sent to the payer. One of the main reasons for claims denial is forgetting to get prior approval. It not only takes extra time but also increases the cost and provides an experience full of hassle. Prior authorizations help providers to enjoy an excellent workflow that results in increased efficiency of your revenue cycle management. 
Before the start of treatment, the information provided by the patients will be stored in their patient records. This is the first step for accurate coding and medical billing. To make sure every piece of the required information is added, the staff needs to update with the regulatory changes. Examining workflow will help avoid costly compliance errors, so medical professionals also need to look at this point.  
Patient encounters provide an excellent chance to enhance patient experience and take a look at all the workflow challenges in RCM solutions. For a steady revenue cycle, practices need to communicate clearly with the patients about any bill changes and insurance coverage changes 
Appropriate Charge Posting

 
Appropriate charge posting is the next step in a successful healthcare revenue cycle flowchart. The providers need to post the claims to the correct payer so that the reimbursements will be collected at a fast pace. The documentation must be accurate, clear, and transparent, with all the relevant information, such as complete information on services provided, patient details, and insurance plans. When the practices have all the correct data, it helps in getting timely payments. 
Claims management is a stressful task as it involves a lot of steps. Eligibility verification, rules, codes, and other factors combine to determine if the claim is 100% successful, partially paid, or will be denied. In case of denial, the practice needs to determine the factors behind it and whether it's worth reworking because it is costly and time-consuming. 
 There are several revenue cycle management tools available that submit automated status requests. Using these tools is quite beneficial as it provides insight into the claims that can be denied, improving productivity and enhancing reimbursements. 
The last step in a successful healthcare revenue cycle management flowchart is to bill patients correctly. A revenue cycle solution helps in making the whole process smoother and more efficient. But make sure to get this software from a reputed RCM provider so that the healthcare practices can enjoy comprehensive benefits. 
Summary
In this guide, we have entirely discussed the flowchart of successful healthcare revenue cycle management. All the significant factors, such as billing and collections, management of claims, appropriate charge postings, patient information, and other important points are addressed in detail to help providers make the right call. CareCloud's RCM is one of the best solutions in the market, designed to help practices meet their revenue goals. Integrate this high-end tool to collect every dollar.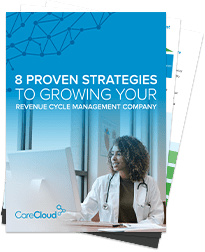 e-book:
8 Proven Strategies for Growing your Revenue Cycle Management Company
Download Now