For a steady cash flow, positive financial health, and survival in competitive healthcare space, your medical practice or healthcare facility needs tight control over the revenue cycle management (RCM) solution you intend to deploy. But, before you decide on which RCM vendor to go with, you must understand the main features required to benefit the most from the software implementation. 
Features of Revenue Cycle Management (RCM) Solution
To make things simpler, this guide enlists the top six features you should look for in an RCM solution. 
For any medical practice, one of the best features to consider while implementing an RCM solution is a cloud-based solution for medical billing. It takes the pressure off your IT department since they no longer have to worry about the server space needed to store and access the RCM data. However, ensure that the vendor you choose for RCM installation offers unrestricted on-demand access to all your data around the clock.  
Moreover, an RCM system on the cloud will enable you to access archive data on safe and secure online backups if your local computer encounters a problem. So, clinicians don't fear losing patient information and care history. 
Submit Claims at the Highest Value

 

 
Healthcare providers and office managers are more interested in revenue cycle management solutions with an ability to ensure all claims are submitted at their highest possible value. It is true when clinicians are aware of potential reductions in reimbursements.  
For any practice, it is easier to depend on RCM solutions to track claim value, or payments may slip through the cracks and take longer to get reimbursed. Moreover, with effective RCM, you save staff time, so they can focus on other important tasks like serving patients. 
Estimating the time your staff spends verifying patients' insurance eligibility is tricky – especially if you go into the year and serve patients who moved to Medicaid-managed care plan or Medicare Part C. 
With RCM, it becomes easy to manage your data transactions online and streamline your regular eligibility inquiries, saving your staff time and effort. Moreover, the advanced mechanisms of software help in checking prior authorization. Many practices use RCM solutions routinely as a practice management system to speed up the process of generating co-payments, and patient responsibility payment estimates. 
Claim Tracking and Correction

 
Another best feature of RCM is real-time tracking of submitted claims and checking their status. Additionally, if a problem occurs in claim submission, your staff can quickly edit and resubmit any of the denials in the software. 
The smart way to reduce the claim denial rate or eliminate it completely is to set up your RCM solution with proactive denial alerts. With this feature, every staff member can respond to the alert by editing and resubmitting the claim. 
Any RCM solution is only as good as the user's ability to use it to its full potential. Therefore, you should ask the vendor whether they offer comprehensive RCM training for any functionality your practice can leverage to reduce account receivable time, submit clean claims and minimize the denial rate. 
Hence, the first step should be to request a demo to review the software's features before you order the RCM and request training sessions. It will also help you identify whether the specific solution can help your practice in improving financial health or not. 
Typically, you should train your most knowledgeable and tech-savvy staff first since they will take less time to conceive the knowledge. These trained members can then help their colleagues with software use. 
Bottom Line
Thorough research is required when you decide to implement RCM solutions for your practice's payment processing to work efficiently, including your budget, practice needs, number of providers, etc. But, evaluating RCM against the features described in this guide will make your search less stressful.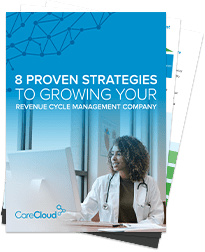 e-book:
8 Proven Strategies for Growing your Revenue Cycle Management Company
Download Now