Revenue Cycle Management (RCM)
Revenue Cycle Management (RCM) refers to the process of identifying, collecting, and managing the practice's revenue from payers based on the services provided. A successful RCM process is essential for a healthcare practice to maintain financial viability and continue to provide quality care for its patients.
The move toward value-based reimbursement and more holistic patient care has required healthcare providers to take a closer look at the way they approach revenue cycle management. Poor billing practices can result in financial losses and potentially put at risk the ability to deliver quality care. Striving to improve and streamline core operational procedures can help providers remain financially viable.
Revenue Cycle Management Challenges
The revenue cycle begins when the patient makes the appointment and ends with successful payment collection. However, there are many steps in between that must be accurately and efficiently completed to ensure timely payment. The opportunities for human error due to coding complexities, miscommunication, medical billing errors due to duplicate data, and missing information or misspellings can result in lost revenue.
The ever-changing healthcare regulations and reimbursement models can make receiving timely reimbursement challenging. This can also increase demands on staff time and often requires appropriate software technology to complete necessary reporting. Healthcare providers often work with limited available resources. For providers to achieve RCM success, it often requires focusing on improving efficiency with administrative tasks.
Factors That Can Affect RCM
The provider has little control over the payment from the claim review and denial process. Long waits for billing and claims to be processed for provider payments may result from claims denied due to insurance eligibility issues and the increasing efforts to combat healthcare fraud and abuse.
However, there are some internal factors that the provider may have some control over. Productivity, patient volume, and collecting fees for service are areas that providers can concentrate on to improve upon their RCM. Issues that can disrupt the RCM process include:
Collecting Patient Payments
The patient's responsibility for healthcare costs is growing. If patient payments are collected during, or before, their service then the risk of non-payments is avoided completely. Although this is often a challenging task due to many patients struggling to afford high deductibles and unawareness of their financial responsibility.
Patient pre-registration is essential to gaining the most accurate information about medical history and insurance information upfront to reduce claim denials. This can permit front-loading the payment process by gathering data about insurance coverage, additional insurance, their maximum allowable visits, and determining the patient's financial responsibility.
Fragmented Administrative Processes
The front and the back end of the office often have different priorities. If information isn't shared it can result in claim denials. Improving communication during patient intake pertaining to coverage eligibility can assist with payer coordination, and claims reimbursement, and may improve payment collections.
Focus on front-end administrative tasks to expedite claims and to assist uninsured patients in understanding their coverage options with insurance exchanges. Revalidating patient insurance information is often overlooked with subsequent visits and can result in eligibility denials.
Eligibility Issues
Communicating with health insurance companies is a key component. Neglecting to manage the claims process after submission can result in pending, rejected, or denied claims, or ones that were never received. Tracking claims to determine where problems originate, such as determining if there are issues with specific procedures or codes, can help increase awareness and reduce recurrences.  
Lack of Digital Workflow
Poor quality data and future revenue cycle complications can occur without the ability to streamline the digital workflow. Developing strong supporting healthcare IT infrastructure can assist with RCM and the ability to process necessary reports. The implementation of an electronic workflow can also help to seamlessly coordinate front and back communication and eliminate lost paper documentation.
Invest in Administrative Staff
Administrative staff that is knowledgeable in working with the unique requirements of varied payers can assist with developing an effective billing and collection process. This may require organizations to invest in staff training on the use of billing forms, coding, chart documentation, revenue cycle software, and insurance verification. Some medical practices choose to outsource their RCM efforts to take advantage of the scale efficiencies and knowledge from dedicated partners.
Administrative staff and coders play an important role in revenue collection, although some may perceive these positions as merely data collection. Foster teamwork and collaboration by offering coders opportunities in mentoring, and other career-development resources, to change this perception, while growing their knowledge base and displaying appreciation for their contributions to the organization's financial success.
Benefits of a Revenue Cycle Management (RCM) Solution
Many providers choose to invest in healthcare Revenue Cycle Management (RCM) software, typically a Practice Management product. While other providers may choose to outsource RCM to ensure a thorough, accurate knowledge of ICD-10 codes.
RCM software can usually stand-alone or may integrate with electronic health records (EHR). It can assist in storing and managing patient billing records and potentially reduce the time between seeing the patient, billing, and reimbursement by interacting with other EHR systems. An RCM system may be able to assist with the transition from fee-for-service to value-based reimbursement by giving a more detailed look at the patient populations. Other benefits of an RCM system can include:
Saving time by automating duties like appointment and payment reminders, and reaching out to insurers regarding claim denials

Providing insights on why a claim was denied

Issuing employee prompts to enter information to save on claim revisions and gain insights on why claims might be denied

Ensuring proper reimbursement for Medicare patients

Determining a patient's insurance status and copay requirements

Potentially include error detection to assist in correcting and tracking unpaid claims

Opportunities to review revenue shortfalls
Managing the RCM Process
Focusing on examining and improving an organization's Revenue Cycle Management (RCM) core operations systems can allow the provider to begin to manage the RCM process rather than allowing the claims to impact the provider's financial viability. A focus on early detection of issues with pre-registration may help identify eligibility issues to assist in preventing initial claim rejection, while implementing RCM software may help to ensure that timely reimbursement is received.
DUMMYTEXT
Sources:
---
The material and information contained on this website is for general information purposes only. You should not solely rely upon the material or information on the website as a basis for making any business, legal, medical, or any other decisions. While we endeavor to keep all information up-to-date and correct, all information in this site is provided "as is," and CareCloud Corporation and MTBC Inc. make no representations or warranties of any kind, express or implied, about the completeness, accuracy, reliability, suitability, or availability with respect to the information contained on the website for any purpose. Any reliance you place on such material is therefore strictly at your own risk.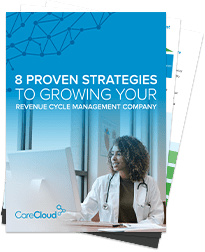 e-book:
8 Proven Strategies for Growing your Revenue Cycle Management Company
Download Now