As a practice owner, you must know what's happening in the back office. A clear understanding of billing and account receivables provides you with a precise picture of the status of medical practice. If a healthcare practice falls short in meeting revenue goals, it needs to make a plan to improve this scenario. For this purpose, the right strategy is to track revenue cycle management (RCM) key performance indicators (KPIs).  
Health systems can minimize billing denials by identifying the areas and making in-time decisions. By implementing procedural changes and KPIs, they can quickly meet their goals. These key performance indicators will help healthcare facilities spot the areas that need help the most. 
Bad Debt Rate – Keep an Eye On
Medical organizations need to understand that only some patients can pay their bills on time. They need to take this into account so that the proper steps can be taken timely. A vital RCM key performance indicator that practice will look at is the bad debt rate. 
Take a Look at the Causes of Claim Denials
A study conducted a couple of years ago stated that the problems with patient eligibility and registration were to blame for most claim denials. Examples include denial for patients who have used up all of their benefits, issues with benefits coordination, and a plan's refusal to pay for the requested therapy or service.  
Another revenue cycle management strategy to avoid denials is to examine the data for claim denials at your company to determine the root of most issues. A lot of problems in this area can be resolved by automating procedures, especially in conjunction with a comprehensive staff training program.   
Always Start with the Main Problem
Healthcare facilities can significantly improve their revenue cycle management by eliminating the primary source of frequent claim denials. Calculate the impact on the practice's revenue of every issue after gathering information about the reason for submission rejections.  
Medical professionals advise getting help from analytics to discover trends in denials by payer, procedure, and provider. The best strategy is to integrate revenue cycle management solutions to address the biggest revenue loss drivers.   
Appeal Protocol
Medical practices often fail to file an appeal for denied claims, leaving a hefty amount of money on the table. Thus, they need to establish appeal protocols as it will give them impressive returns and effectively improve their RCM.  
This appeal procedure needs to be streamlined to help practices increase profitability. Medical organizations need to create appeal templates to boost the speed of this process. In this way, the whole process of getting paid will speed up.   
Use the Latest Technology
The use of predictive analytics by RCM solutions to minimize claim denials is also one of the right strategies. Before submitting the reimbursement request, this software application can examine claims and highlight those likely to be denied. Employing top-notch tools has a price, but practices that integrate these revenue cycle management solutions will increase their earnings significantly.    
Patient Eligibility
One of the highest claims denial ratios is failing to check patient eligibility. It costs a lot of money because, in this case, the insurance provider rejects the entire claim. Practices need to use all available resources for patient eligibility verification.  
Effective RCM solutions train staff to check patient demographics and insurance every visit to minimize this error. The common mistakes of claim denials include issues with the code, policy number, date of birth, and other related errors. If the staff is unsure about the insurance eligibility, always contact directly with the provider.   
Select the Right RCM Vendor
Medical facilities need to select the right vendor to get the best results. There are a lot of service providers out there, but medical organizations should choose the one that provides the services of their choice.   
CareCloud's RCM Solution
 CareCloud's revenue cycle management solution improves profitability and cash flow. It is a complete revenue cycle tool made to shift the collection of the burden off your shoulders. With complete transparency and the powerful support of specialized experts, this software is a must-have for medical facilities looking to increase their revenue.  
Summary
This guide discussed critical revenue cycle KPIs medical practices must watch to prevent denials. Some main KPIs include patient eligibility, using the latest technology, integrating appeal protocol, focusing on the main problem, bad debt rate, and much more. Lastly, we have explained how CareCloud's RCM solution helps practices to increase profitability and productivity.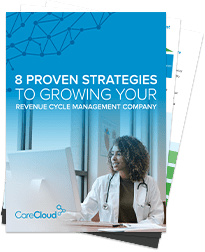 e-book:
8 Proven Strategies for Growing your Revenue Cycle Management Company
Download Now