With Meaningful Use Stage 2 and its patient engagement requirements drawing near, patient portals are garnering a fair amount of attention from healthcare pundits. It seems like portal adoption is almost mandatory at this point.
While some health IT vendors offer EHRs that have a native portal built into the software, many do not. Physicians who adopt an electronic health record without an integrated portal are then tasked with finding an independent portal offering that syncs with their EHR.
It sounds like the end result may be the same, but it's far from it. There are multiple reasons why going with an integrated EHR-portal solution makes more sense than combining two separate offerings.
Costs
Depending on whether you purchase a client-server EHR or a cloud-based solution, you'll either pay a lump sum upfront or a regular monthly payment. Purchasing a separate patient portal to integrate with your EHR solution will add another monthly payment on top of what you're already paying.
Patient portal costs usually vary depending on the functionality you need from the software – the more capabilities, the more expensive.
On the other hand, if your EHR comes equipped with a patient portal, you won't have to make any additional payments for an independent solution. Plus, the portal will be fully functional, meaning you won't have to pay anything extra for certain features.
Software Integration
The main problem with integrating an EHR and a portal from two different sources is that while they may work well together at first, they don't always continue to do so in the long run. Say your EHR vendor makes a change to their software, the portal vendor will then have to update their solution accordingly. In this case, you will have to wait for the two to sync up again.
There can also be a disconnect in customer service. If the two aren't working together properly, who would you address the issue to: the EHR or the portal vendor?
With an integrated solution, though, there is no need to worry about the two components disconnecting or who to ask customer service questions to. Updates to either the EHR or portal will be made together, creating a seamless interface.
Training
If you choose an EHR with an integrated portal solution, costs and productivity loss due to training go down as well. The vendor takes care of training for both products during the implementation process, so you'll be up and running in no time.
Going with separate EHR and portal vendors means double the training. First, you'll have to learn to work with one offering, then the second. Unfortunately, the time your staff spends on training is time not spent performing vital revenue enhancing tasks.
Timing
Because Meaningful Use Stage 2 is less than three months away, if you choose to purchase EHR and patient portal software separately, there may not be enough time left for integration. It can take from three to six months for two companies to sync software together depending on the issues they encounter.
Going with an EHR already combined with a portal is a much faster solution. The only thing you have to worry about is training in time for your practice to catch the start date of Stage 2.
Although combining separate EHR and patient portal offerings may technically work, it doesn't mean it's the best solution. If you're in the market for a new EHR, make sure it comes with a patient portal. There's merit to the saying "kill two birds with one stone."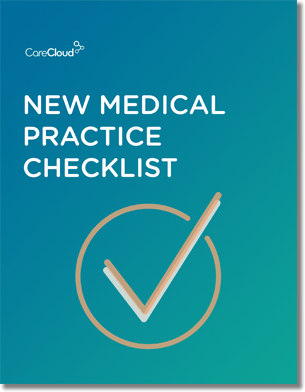 Do you know what you need when setting up a new medical practice?
Get our New Medical Practice Checklist
Download Now!