Patient portals are the broccoli of the health IT world – loaded with benefits, but patients still won't touch them. Patient adoption and usage of patient portals is at a mere 6% nationwide according to Chilmark Research.
The problem is, if you're looking to attest to Meaningful Use Stage 2 you can't afford to let your patient portal go the way of the perpetually unappreciated broccoli. The amount of patients that access your portal now matters.
Many physicians complain that this isn't fair since they can't control what their patients do outside the office.
But the truth is, your practice can easily get patients to your portal with some forward-thinking and a proactive approach.
Involve Patients in the Selection Process
Seeing that they are called patient portals, it only makes sense that your patients should have a say in the selection of a portal.
Ask patients what they would find useful in a portal when they visit with you. Distribute a short, simple survey for them to complete when they come into the office or create a poll on your practice's Facebook page.
Select a Portal with Useful Features
Once you know the features your patients want, select a patient portal with those features. This increases the likelihood of patient use.
Chilmark Research noted that the patient portal for healthcare consortium Kaiser Permanente sees a patient usage rate of 35% largely because of the useful features it offers, such as appointment scheduling.
Mike Cuesta, Director of Design and Community for CareCloud, believes that portals should "try to automate some of the more administrative tasks and some of the things that require you to communicate with your physician."
This increases convenience for your patients. When they don't have to call or show up at your practice to get a prescription refill or pick up a referral form, it's less time being taken out of their busy day.
Take Front-End Portal Design Into Account
Your patients are less likely to use a patient portal designed in a way that makes beneficial features difficult to access.
"Patients want things that are easy, simple to use, and clean," said Cuesta. He stated that portal applications should be "invisible" in the sense that patients can perform the tasks they need to without even thinking about it.
He also noted that proper design and functionality need to apply to both computer and mobile patient access.
"The idea is that, if you're on a mobile phone or on a desktop, you want to be able to access that same portal," said Cuesta. "That doesn't mean that on your mobile phone you want to view the desktop version; you want a version that's optimized for mobile."
Never Stop Raising Patient Awareness of the Portal
Your portal can be everything your patients want, but patients who aren't aware of the portal can't possibly use it. This is why continuous effort needs to go into raising patient awareness of your portal.
Constantly remind your patients about the portal and the benefits it provides. You can pass out fliers, post materials in the office, and even provide talking points to the staff so they can engage patients about the portal as well.
Cuesta suggested making sure the portal is reinforced on the web as well. Not only by pushing the message on the practice website but through email and social channels as well.
Remember, don't blame your patients if they aren't using your portal at the required rate. Patients want the convenience a portal provides; that convenience just has to be made available and they have to know it. If not, you may end up falling short of the Meaningful Use Stage 2 requirements.
Need more information about the stages of Meaningful Use? Take a look at our Meaningful Use Timeline.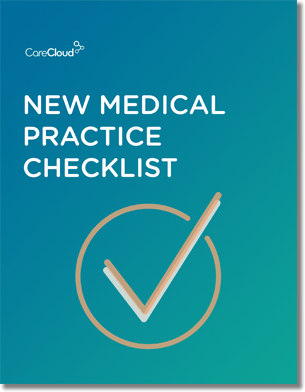 Do you know what you need when setting up a new medical practice?
Get our New Medical Practice Checklist
Download Now!