When you're consistently collecting on your submitted claims, it can be easy to trust that your routine is working perfectly. What you might not realize, though, is that certain procedures you have in place could be causing you to lose time and incur hidden costs.
To get your practice paid in the most efficient manner possible, it's important to know what may be slowing you down. With a few changes and a little extra foresight, you can avoid delays and quickly collect on every pending claim.
Review Your Review Process
Your billing staff probably already has a review process in place to ensure your claim submissions are clean. But is it the best process available? Even the most experienced billers can miss errors when reviewing claims manually.
Instituting "claims scrubbing" software, which identifies and fixes problem claims automatically, may save your billers time and ensure greater accuracy.
Theresa Hanzen, a director of business office services at St. Paul Radiology in St. Paul, Minnesota, instituted claims scrubbing technology in her practice. Before that, her "coders depended on reference books to manually confirm that all coding rules were being followed," she wrote in an article on the benefits of her staff's transition.
"As we soon learned, an interactive, online resource had the capability to serve our staff much more effectively," continued Hanzen. "With an automated reference, these types of claims scrubber solutions could work faster and be more comprehensive."
Some practices opt to have their claim reviews executed by a clearinghouse, but if your clearinghouse finds errors and sends the claim back to you, an extra step is added to the process. Unnecessary steps cost you time and fees, so audit your process to find out if an in-house assessment would be more cost-effective.
Don't Wait to Submit
Submitting claims to your payers daily, rather than weekly, is beneficial to your practice.  The Medical Group Management Association (MGMA) found that once-per-week claim submissions typically delayed payment to providers by 1-4 days.
It may seem convenient to wait until Friday and send all of your claims out in one bunch, but doing so suspends the flow of cash into your office. Don't skirt the review process, but get your claims out on a daily basis to get your money in-house more rapidly.
Ditch the Paper – Submit Electronically & Be 5010 Compliant
Sending claims via snail mail is likely costing you more than realize. According to the American Medical Association (AMA), the average cost of processing a clean claim is $6.63 when sent manually by paper. The same claim sent electronically costs only $2.90.
Also, since the HIPAA 5010 compliance deadline is nearing, now's a better time than ever to go electronic. Medicare Beginning January 1, 2012, the Center for Medicare and Medicaid Services will accept electronic claims in the Version 5010 format only. Why not get on board today?
The 5010 guidelines will standardize the procedures related to electronic transactions, so any e-claim system you purchase now will already adhere to 5010 parameters. That's a major benefit to you as a consumer in making the switch.
Lastly, in addition to being cheaper and HIPAA-compatible, e-claims have a much faster turnaround time for remittance – 69% of electronic claims are processed in seven days, compared to 29% of paper claims – and are better for the environment. Be "green" and get your green more quickly by submitting online.
What steps are you taking to save time on your claims?
Madelyn Young is a Content Writer for CareCloud and an expert on practice management, medical billing, HIPAA 5010, ICD-10 and revenue cycle management. You can read her work on Power Your Practice and the CareCloud Blog. Contact Madelyn with story suggestions, contributor articles, or any other feedback at madelyn@poweryourpractice.com or follow her on Twitter @madelyn_young.
---
The material and information contained on this website is for general information purposes only. You should not solely rely upon the material or information on the website as a basis for making any business, legal, medical, or any other decisions. While we endeavor to keep all information up-to-date and correct, all information in this site is provided "as is," and CareCloud Corporation and MTBC Inc. make no representations or warranties of any kind, express or implied, about the completeness, accuracy, reliability, suitability, or availability with respect to the information contained on the website for any purpose. Any reliance you place on such material is therefore strictly at your own risk.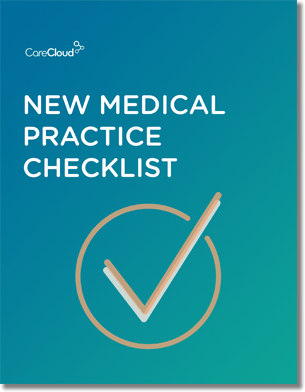 Do you know what you need when setting up a new medical practice?
Get our New Medical Practice Checklist
Download Now!