Medical practices scrambling to prepare for the HIPAA 5010 compliance deadline on January 1, 2012 can breathe a sigh of relief – they will get more time.
With the year coming to a close and the deadline for 5010 fast approaching, the Centers for Medicare and Medicaid Services (CMS) has announced it will not enforce penalties for HIPAA covered entities until March 31, 2012.
While the compliance date for implementing ASC X12 Version 5010 remains January 1, the CMS is allowing a 90-day period of "enforcement discretion for compliance with new HIPAA transaction standards."
Version 5010 Grace Period
The Office of E-Health Standards and Services (OESS), the division of the U.S. Department of Health and Human Services (HHS) that enforces HIPAA and code set standards compliance, explained the decision in a CMS release:
"OESS made the decision for a discretionary enforcement period based on industry feedback revealing that, with only about 45 days remaining before the January 1, 2012 compliance date, testing between some covered entities and their trading partners has not yet reached a threshold whereby a majority of covered entities would be able to be in compliance by January."
This comes on the heels of the Medical Group Management Association (MGMA) asking the HHS to issue a HIPAA 5010 contingency plan allowing health plans to adjudicate claims that may not have the required data for the new standards.
"It is clear that a significant number of medical groups will not have the ability to transmit claims and other electronic transactions using the Version 5010 format by the Jan. 1 deadline," according to a statement from Susan Turney, MD, MGMA president and CEO.
Physicians Unprepared for 5010
Recent MGMA research suggests that practices and their trading partners have not yet completed essential steps to transact under the new 5010 standards.
According to an MGMA survey, only 4.5 percent of practices report being fully complete with 5010 implementations — with many practices still waiting for software upgrades and service updates from vendors.
This move by the CMS should help physicians avoid the potential disruption of cash flow many experts expect for practices that haven't fully implemented Version 5010.
How is your practice preparing for HIPAA 5010 implementation?
---
The material and information contained on this website is for general information purposes only. You should not solely rely upon the material or information on the website as a basis for making any business, legal, medical, or any other decisions. While we endeavor to keep all information up-to-date and correct, all information in this site is provided "as is," and CareCloud Corporation and MTBC Inc. make no representations or warranties of any kind, express or implied, about the completeness, accuracy, reliability, suitability, or availability with respect to the information contained on the website for any purpose. Any reliance you place on such material is therefore strictly at your own risk.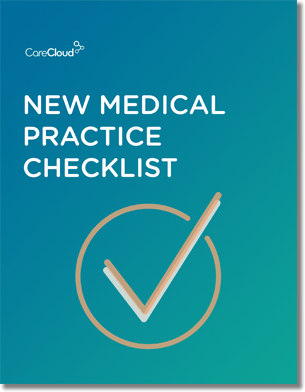 Do you know what you need when setting up a new medical practice?
Get our New Medical Practice Checklist
Download Now!