Medical claims processing is broken. The process is growing increasingly complicated, making it more difficult than ever for physicians to get paid in full.
The American Medical Association (AMA) is helping healthcare providers reverse this trend with its "Heal the Claims Process" campaign that spreads the word on the benefits of electronic claims processing.
According to the AMA, physicians who switch to electronic claims processing can dramatically reduce the cost of submitting claims from as much as 14 percent of revenue to roughly one percent.
Cutting the paperwork, errors and staff requirements of traditional claim submissions can save more than $9,000 per physician in 2012, according to data cited by the AMA.
As part of the campaign to help improve the claims process, the AMA has designated November as "Heal that Claim" Month. There's no time like right now for physicians to switch to a more streamlined way of doing business.
"Resolving questions of insurance eligibility, submitting claims to insurers and keeping track of the process can be costly and time-consuming," said AMA President Peter W. Carmel, MD, in a statement.
Dr. Carmel believes the AMA can play a pivotal role in helping physicians streamline the claims process, increase profits and improve patient care through the campaign.
AMA's Benefits of Electronic Claims Processing
• Save money
• Cut time spent on paperwork
• Eliminate time-consuming phone calls to health insurers
• Reduce administrative errors
• Free up time to focus on patient care
The AMA has transactions toolkits with outlines, checklists and webinars to help practices start the switch to electronic claims processing.
Utilizing electronic transactions can standardize the claims process and automate many of the time-consuming tasks that monopolize a medical practice's staff.
Eligibility verification, prior authorization, claim status confirmation and processing payments from health insurers can all be done digitally and in a fraction of the time necessary for the traditional paper claim processing.
Claims in the Cloud
Switching from paper claims processing to electronic can pay significant dividends for a practice's bottom line, but adopting a cloud-based system can be even more beneficial for physicians.
Practices can achieve greater savings by moving electronic claims to cloud-based systems that require very little implementation, hardware and maintenance costs.
Cloud-based claim software gives practices of all sizes greater connectivity and flexibility through a system that allows secure access to users from multiple locations and with greater speed.
Physicians who leverage the best technology available to process claims will reap the greatest rewards for their patients, their practice and themselves.
What is your practice's plan to implement electronic claims processing?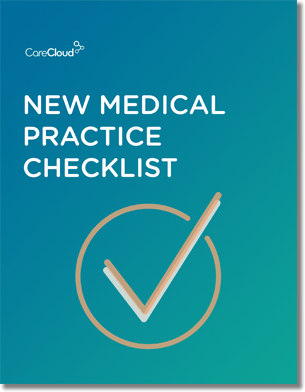 Do you know what you need when setting up a new medical practice?
Get our New Medical Practice Checklist
Download Now!