Many doctors are hesitant about promoting their practices through marketing, advertising, and publicity measures. Concerns about self-promotion are not unfounded for older physicians, since the American Medical Association prohibited advertising from its code of ethics until 1975.
The rule has long since been reversed, but the images that come to mind today when you think about "medical advertising" or marketing may not be appealing examples in favor of that decision.
Racy plastic surgery ads populate billboards, signs for suspicious-sounding "pain clinics" show up on roadsides, and the mug of the least reputable physician in your town is the one most likely to be grinning at you from a bus bench.
But the prevalence of those bad examples is exactly why more upstanding physicians need to engage in self-promotion – yourself included.
For better or worse, broad awareness and high visibility can drive individuals to a certain doctor's office – just as they drive traffic anywhere else. If you're not working to get the word out about your practice, you're missing opportunities. And what kind of doctors are you losing those potential patients to?
Consider a hypothetical person: a shy young man who's a newcomer to your city. If he comes down with troubling symptoms and doesn't ask around for a physician recommendation, he's likely to go to the doctor he hears about first – and that may be the one from that low-quality commercial you saw on TV last night, whom you know is a less-than-upstanding practitioner.
Sure, you can't attract every patient who needs a doctor. And I'm not suggesting that you put your face on the side of a bus to keep up with the competition. But establishing a visible presence in your community through marketing can help you attract patients, which keeps them away from the less reputable, higher-visibility healthcare providers in your area.
In that sense, self-promotion is not something to be hesitant about – it's something to be proud of. If you're a good doctor, failing to market yourself does a disservice to the medical community.
"Think about it this way: If you know deep down that you are the best at what you do, spend the most energy and time with your patients, provide excellent service and myriad other benefits for patients, why are you keeping it a secret?" writes C. Noel Henley, MD.
You should be getting the word out about your services as a physician. And don't shrug off marketing as something only large doctor groups can afford to execute.
Before you begin, put some thought into what message you want to convey through your marketing efforts. Are you family-friendly? Easily accessible? An expert on a specific medical concern? Brainstorm about what your target patient's needs are and how you want her to perceive you as meeting them. That's the first step to promoting your practice – and making sure you do so in a way that you're comfortable with.
Low-cost approaches to generating awareness can be highly effective. Expand your online presence through blogging or social media; 44% of U.S. web users look online for information about doctors and other health professionals.Traditional routes are also viable. Get involved in community events, send direct mailers to new residents in your area, serve on a teaching or media panel, or host a free health education seminar for a specific patient demographic, such as expecting moms, adults caring for aging parents or teens.
"Marketing is more than just advertising, public relations, and communication," says Neil W. Treister of Physician Executive. "Marketing is the process by which the health care provider identifies and strives to meet or exceed the needs and expectations of the health care customer, especially the individual patient."
Don't let that individual patient fall into the care of a lesser doctor because you're relying solely on referrals and word of mouth. Create a marketing plan and get comfortable promoting your practice – for the health of your community and your business.
How do you market your practice to potential patients?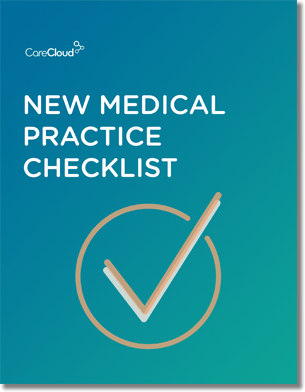 Do you know what you need when setting up a new medical practice?
Get our New Medical Practice Checklist
Download Now!