Research from the Robert Wood Johnson Foundation found that since the start of the recession in December 2007, significantly fewer U.S. patients have been seeking inpatient and elective medical care.
In this economic environment, where doctors are seeing less traffic in general, it can be highly challenging to gain new patients and grow your private medical practice..
If you're looking to expand, try taking the following five small, low-cost steps. With any luck, they'll help you increase your patient base without expending much effort.
Earn Some Positive Reviews
New avenues for patients to post online reviews of physicians are emerging all the time: ZocDoc, Healthgrades, Angie's List… even Yelp. Today's tech-savvy consumers are very likely to check out your reviews before becoming your patients, so put aside a few hours to see what has been said about you on these sites and others.
If you're noticing an abundance of negativity in your reviews, pay attention to the complaints. If multiple patients are harping on a similar issue, accept the problem, whatever it may be, and try to improve your performance in that area.
While you're working on it, talk to a few of your most trusted long-term patients and ask how they feel about you and your practice. If they're happy, nudge them toward sharing their positive feelings in an online review. Then, keep an eye on your scores and listen closely. As your reviews improve, you may start hearing more calls from potential new patients.
Establish or Enhance Your Presence on Social Media
Some docs are uneasy about using tools like Facebook in their businesses; communicating any sensitive data through social media is, of course, not OK. But there are many useful, safe ways to use social platforms to market practice to potential patients.
When your current patients become "fans" of your business on Facebook, their friends see it. That can direct user traffic to your page (and, ultimately, your practice). Use an engaging page design to encourage users to "Like" your page.
You may also want to consider starting a blog where you provide wellness tips, promote local health events, and discuss general, positive information about yourself and your practice. Promote the blog on Twitter and use it to engage with organizations in your community. You may get more eyes on it than you think.
Dr. Natasha Burgert, a pediatrician, reports that her strong social media presence, which includes a blog and well-trafficked Twitter account, enables her practice to win, on average, one new patient family every week.
Embrace Technological Change
On this front, good word of mouth will always work in your favor. Young patients especially want to have a technologically connected healthcare experience, and that can be easy to create through low-cost technological updates.
Patient portals can give patients access to their lab results without needing to call the office or come in for a visit. The ability to email your practice to set up an appointment or ask a question can save time for your patients and your employees. And the Internet Journal of Healthcare Administration found that text message appointment reminders reduced patient no-shows by as much as 36%.
Patients who are happy with the convenient experience their physician provides are more likely to refer friends and family. Technology can make it easier to get patients, existing and new, in the door and happy to be there.
Engage With a New Crowd
When was the last time you, or a representative of your practice, participated in a community service project or fundraising event? Community engagement of that sort is a great way to project a charitable, positive image of your practice to others.
If you do have a slate of events on your plate, like the same cancer walk and silent auction you did last year, branch out! Swap out one 5K for a similar running event for a different cause. Sponsor a local fundraiser outside of your normal healthcare scene, like a dinner dance benefitting an area school you don't have an existing connection to. Accept an invitation to a networking conference or speaking engagement that you'd normally decline.
Providing support to new communities through unexpected means will get you noticed by people you don't know – who could ultimately become your patients.
Expand Your Services
Adding staff to increase the number of services you can provide may be a wise choice for your business. Pay attention to shifting demographics in your patient population and community, make changes in line with larger shifts, and promote your new offerings through strategic, targeted advertising.
If you're treating a lot of pregnant women or adults with young children, consider adding a dedicated pediatrician to your internal medicine practice. If a major employer in your town just executed a large round of layoffs, think about offering reasonable direct pay pricing options to the newly uninsured. Losing business to a mini-clinic at a nearby drugstore? Add a physician assistant to your staff to perform standard exams and prescribe antibiotics.
Stay aware of what people in your community need. By meeting demand at the right time, you can win patients and boost of your bottom line.
Have you gained new patients recently? What tactics help you expand?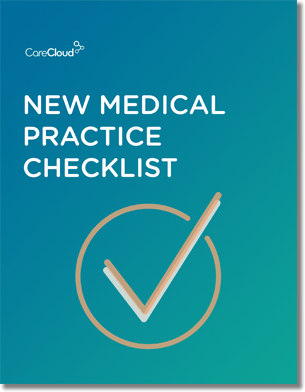 Do you know what you need when setting up a new medical practice?
Get our New Medical Practice Checklist
Download Now!