As social media becomes more and more pervasive in daily life, it's more important than ever for hospitals and medical practices to use tools like Facebook to engage with patients and the public in a meaningful way.
Plenty of healthcare organizations have signed up for Twitter, LinkedIn, YouTube, or Facebook, but not all of them are using the tools effectively.
Here are some of the medical establishments that are using social media in the most unique and useful ways. See if there's anything your practice can learn from their examples.
The Department of Veterans Affairs (VA)
The VA recently announced that it not only expanded its social media presence, but it also established an individual Facebook page for each of its 152 medical centers in the U.S.
A strong social media presence is clearly a priority for the Department of Veterans Affairs, as the organization is proud to report that it now has over 150 Facebook pages, 64 Twitter feeds, a YouTube channel, a Flickr page, and a popular blog called VAntage Point.
But what's really impressive is how the VA is using its social media tools to make a difference in veterans' lives. Last year, the VA's Crisis Line counselors acted on instances where veterans expressed suicidal thoughts or other emotional troubles on Facebook, using the site as a means for responsible, successful intervention.
The VA plans to use its newly launched pages to raise awareness of general health issues and address the overarching concerns facing many veterans. It's next social media move? Setting up unique Twitter feeds for each of its 152 medical centers.
The Mayo Clinic
This world-famous non-profit healthcare organization boasts over 73,000 "likes" on Facebook. This is due in part to the engaging design of its landing page on the site, which points viewers right to the "Like" button.
The Mayo Clinic also has a significant presence on other new media tools, including Twitter, where it reaches over 300,000 followers. Its dedication to the social sphere, though, goes much further than that.
The Mayo Clinic has a free online health community for patients and its own Center for Social Media, which offers a Social Media Health Network service to other provider organizations. The network "provides access to tools, resources, and guidance for organizations and individuals wanting to apply social media in health and health care."
If your practice has yet to get on board with social media, the tools available through the Social Media Health Network are incredibly useful to help you get started. No matter what, the Mayo Clinic's example is a social media model you should aim to follow.
The Nebraska Medical Center
Plenty of hospitals have YouTube channels, but few can stack up next to the number of uploads on the feed of the Nebraska Medical Center (NMC). Their 202 videos have over 218,000 views.
The videos are largely informative health pieces on such varied topics as chest pain, "How To Avoid Falls," and the difference between a CT and an MRI. Public relations videos documenting hospital events are also in the mix.
But more significant than any of those are the incredible cancer resources NebraskaMedCenter has on YouTube, one of which served to change their business forever.
When a patient with a rare carcinoid cancer shared her surgery experience on the hospital's social media video channel, it prompted patients around the country to reach out to the medical center requesting the procedure. Nebraska Medical Center opened up a new monthly clinic for the condition in response to the demand.
Tools for Change
That's one thing that's so great about social media: it provides a means for patients to reach out to providers, opening up avenues for communication and change.
Without NMC's surgery video, the patient population with that rare cancer would remain underserved. NMC would never have expanded their business with the new clinic. Social media engagement proved mutually beneficial to NMC and a particular subset of consumers.
Many other providers have impressively used social media to make way for changes.
University of California San Francisco raised $805,554 toward a new children's hospital through FarmVille, a popular Facebook game. Geisinger Health System in Pennsylvania recruited gastroenterologists through a social media campaign. Children's Medical Center Dallas promoted its organ donation initiative by live-tweeting one family's donation experience on Twitter, as a father gave a kidney to his three-year old son.
Since social media has that kind of power to connect and motivate people, no healthcare organization should dismiss social media activity as unnecessary.
How strong is your social media presence?
Madelyn Young is a Content Writer for CareCloud and an expert on practice management, medical billing, HIPAA 5010, ICD-10, and revenue cycle management. You can read her work on Power Your Practice and the CareCloud Blog. Contact Madelyn with story suggestions, contributor articles, or any other feedback at madelyn@poweryourpractice.com or follow her on Twitter @madelyn_young.
---
The material and information contained on this website is for general information purposes only. You should not solely rely upon the material or information on the website as a basis for making any business, legal, medical, or any other decisions. While we endeavor to keep all information up-to-date and correct, all information in this site is provided "as is," and CareCloud Corporation and MTBC Inc. make no representations or warranties of any kind, express or implied, about the completeness, accuracy, reliability, suitability, or availability with respect to the information contained on the website for any purpose. Any reliance you place on such material is therefore strictly at your own risk.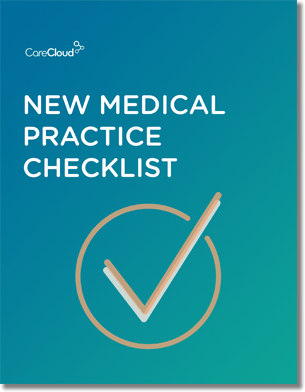 Do you know what you need when setting up a new medical practice?
Get our New Medical Practice Checklist
Download Now!