The provision of medical treatment to patients should be the sole focus of the healthcare industry. Any additional responsibilities detract from the primary duty of providing quality care. Additionally, healthcare workers lack the training and expertise needed to offer medical billing services. They must therefore be trained. On the flip side, outsourced revenue cycle management (RCM) services are more affordable because they already possess the necessary technical know-how.  
This guide will discuss the variables affecting the price of healthcare RCM services in 2023. Besides, we will analyze the cost of both in-house and outsourced RCM. 
Factors Affecting the Price of RCM Services in Healthcare Space in 2023
Let's talk about the variables that impact how much healthcare RCM services cost:  
Incomplete or Incorrect Patient Information
  When a patient and a health professional first interact, healthcare billing begins. To make the claim submission and reimbursement process more manageable for those who provide revenue cycle management services, healthcare providers must gather all the patient data they require immediately. Accurately gathering all information reduces the possibility of delays and duplications in claim reimbursement. It takes a long time for healthcare practitioners to fix errors in such information if it is not collected appropriately.  
Higher Cost of Treating Patients
  It is often noted that patients' financial burdens grew significantly due to incomplete or erroneous information obtained during the billing process. Lack of transparency in the billing process results in unforeseen expenses, which prevents patients from making a timely, full payment. Therefore, healthcare providers and patients must work together to maintain simplicity and efficiency throughout the medical billing process.  
Manually Entering Information
  It is implied by the phrase "more than what meets the eye" that revenue cycle management services are more intricate than they might first appear to be. Therefore, manual information recording should be strongly avoided. Human error is inevitable, and manually maintaining records frequently results in errors that do not happen when the process is automated. Medical billing procedures are streamlined by automation, which builds efficiency in the system.  
One of the mistakes made by healthcare professionals is in medical coding, which is as complex as manual record-keeping. However, due to the importance of medical coding and documentation for high-quality patient care, it is one of the most critical activities in the healthcare sector. Accurate coding can prevent claim denials, patient harm, and penalties. The medical coding procedure is often more than a healthcare provider can handle on its own. Hence it is advised to be outsourced to a professional medical billing company, such as CareCloud, to prevent errors. 
Cost Calculation for Outsourced RCM Services
According to Medical Billing Service Review, medical billing claims that insurance companies reject cost healthcare organizations an average of $125 billion annually. Losses result from both patients missing payment deadlines and coding errors.    
Note: Most medical billing companies do not mention their charges on their websites. Thus, all the cost data we discuss is hypothesized and based on estimations. CareCloud also does not mention its RCM solution rates on its website. If you are interested in getting the insight, schedule a FREE demo now! 
A revenue cycle management service provider might not charge signup costs. But be aware that each doctor on staff will cost you around $300. A set cost, such as $1,000 for each office, may be charged by the RCM services provider if you manage an extensive practice with numerous specialties. There are also administrative costs. They typically cost between $3,000 and $6,000. The size of your facility and the number of patients you treat annually determine the administrative fees you will pay.  
You can pay a fixed charge or fees calculated as a percentage of the patient service income earned for claims processing. When you outsource revenue cycle management, keep in mind that your income should increase rather than decrease.  
The reduced rate of unpaid insurance claims should be more than the balance of the costs, even if you are now paying more in fees. According to Medical Billing Service Review, practices contribute between 5% to 10% of the funds received.  
For each claim, flat costs range from $4 to $6. In general, small offices will pay hourly rates. The fees are determined by how much time the revenue cycle management business spent obtaining your bills. It will be roughly the same as paying a full-time employee to handle medical billing. But you won't be required to pay monthly for a full-time revenue cycle management solution.  
Software Advice estimated that healthcare firms with $2.5 million in yearly insurance claims would spend $120,000 on internal medical billing or $5,000 on external medical billing. But there are other expenses involved besides the $5,000. Direct insurance claim processing would cost $4,500 in-house instead of $150,000 if outsourced. While a third-party handling RCM service would collect 70%, in-house collections would only achieve 60%. The difference between doing RCM in-house and outsourcing it would be $1,367,500 against $1,594,500. 
Remember that revenue cycle management (RCM) solution company will focus exclusively on billing issues. Also, they will have lower personnel turnover than medical offices do. As a result, their billing specialists will gain frequent, continuous training and extensive experience. 
Conclusion
This guide discussed how much healthcare RCM solution costs in 2023. Moreover, we also compared the cost of in-house and outsourced RCM services to help you make the right decision. If you want to outsource your billing and coding to a professional medical billing company, CareCloud has got you covered.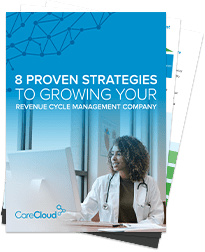 e-book:
8 Proven Strategies for Growing your Revenue Cycle Management Company
Download Now