By Daniel Sabido
The good news is that American medical practices are generally doing well. Together with UBM Medica, our 2017 Practice Performance Index research surveyed over 2,000 medical practice leaders earlier this year and found that 61 percent of practices are holding steady, and nearly 1 in 4 is a "high performer" — showing growth across practice collections, number of practice locations, number of providers, total patient volume, and provider satisfaction.
The bad news is that 15 percent of medical practices are falling behind based on declining performance in those same categories. These medical practices were not concentrated in one particular specialty, region, or size – other factors were at work.
We've looked at what sets high-performing medical practices apart, but what can these falling-behind practices teach us about the future of independent medical groups? What warning signs do their responses offer?
4 Habits of Falling-Behind Medical Practices – And How to Overcome Them
1 – Not keeping up with regulatory changes:
Regulatory pressures on medical groups have been building for the last decade – and it looks like our falling-behind segment is throwing in the towel. Falling-behind practices are twice as likely to not have a plan in place for the shift to value-based care compared to high-performers, and only about a third think they will earn an incentive under the Medicare Access and CHIP Reauthorization Act (MACRA, MIPS) this year.
Is this your practice?
It's not too late to catch up to avoid 2017 MIPS penalties. Talk to your EHR vendor now about how to prepare for the latest requirements and look to your specialty association for more guidance. The AMA, and nearly every specialty group, has free MACRA resources available online. Without action, a primary care provider could see their reimbursements from Medicare be reduced by $5,000 to $15,000, an orthopedic surgeon could see a reduction of $15,000 to $25,000, and an ophthalmologist could see a reduction of $20,000 to $30,000, based on average net collections per provider tracked by the American Medical Group Association (AMGA) and assuming 40–60 percent Medicare Part B patient share.
2 – Skimping on new tech investments:
The data showed a wide gap between high-performers and falling-behind practices on health technology adoption. Falling-behind practices are skeptical about technology's ability to improve care — 18 percent of these practices couldn't name a single way that technology was helping and responded with statements along the lines of "innovations have destroyed medicine as it was" and "being forced [to use technology] by the government against our wishes."
Is this your practice?
Not all technology is created equal. If your practice hates its technology vendors, it's time to start the search for new partners. Replacing technology is rarely easy, but our research shows that it matters. High performers are twice as likely to be using technology such as telemedicine, advanced analytics for population health management, and check-in kiosks that help them deliver improved patient experience. And going back to the first point about the transition to value-based care, it's no coincidence that two-thirds of falling-behind practices report they're not getting enough support from their current technology vendors on regulatory changes.
3 – Ignoring physician burnout:
A disheartening 75 percent of providers in falling-behind medical practices report being dissatisfied at work. Of all the criteria we surveyed, this was the measure most closely correlated to practice performance. Compare this to 90 percent of providers in high-performer groups reporting career satisfaction. A signal about dissatisfaction hiding in the data: 87 percent of falling-behind practices said they're spending too much time on administrative tasks.
Is this your practice?
Take action to improve provider satisfaction immediately. Start with open conversations among your staff about the issue. Start to measure satisfaction and build a committee to lead the change. Are there repetitive, low-value workflows that could be automated, such as scanning patient documents or using templates & order sets in your EHR or PM? Switching out those technology vendors could also be a start. Can you update your vacation policies? Build fairer shift schedules? Check out STEPS Forward and Stanford Medicine's WellMD program for advice on reducing burnout and improving provider satisfaction at your practice.
4 – Shutting out patient feedback:
According to our research, almost half of falling-behind medical practices collect no patient feedback compared to 83 percent of high performers who do. Listening to patients isn't just an unavoidable side effect of online rating sites or handy business practice, it also impacts the bottom line for medical practices as the medical economy shifts toward value-based care and patient consumerization.
Is this your practice?
Don't wait for negative reviews to appear on Healthgrades or Yelp. Work with a company like Luma Health to gather private feedback from every patient and then ask the happiest to post public reviews. Start with these three tips to building positive Yelp reviews for your practice and brush up on the latest in patient experience measurement from the Agency for Healthcare Research and Quality.
Can falling-behind medical practices catch up to the rest of the sector? Our research indicates that embracing change is the most crucial factor for medical practices looking to grow and succeed. That could mean change in regulatory policy, change in technology vendor, change in clinic policy, change in patient relationship, or even change in leadership. Just like an extinction event in biology, it is the organisms that can adapt and evolve the quickest that go on to survive.
---
Daniel Sabido is CareCloud's Director of Product Marketing, where his responsibilities span the entire portfolio of products, and is particularly focused on identifying trends that will affect the performance of medical groups across the country. Previous to joining CareCloud, he was an Engagement Manager at OC&C, a global management consultancy, based in their London HQ where he focused on B2B clients. Daniel has also held strategic planning roles at McCann Worldgroup in New York and at the Monitor Group as a consulting analyst.
Daniel holds an MBA with Distinction from the London Business School and completed his undergraduate at the University of Pennsylvania's Wharton School with majors in Finance and Operations.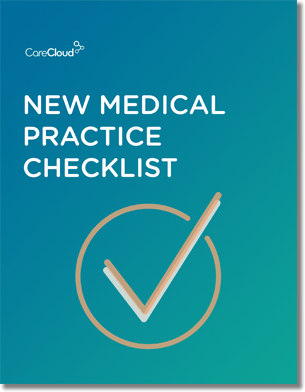 Do you know what you need when setting up a new medical practice?
Get our New Medical Practice Checklist
Download Now!