By Daniel Sabido
There's a widening gap between medical practices in the U.S. – Some are falling behind, feeling overcome by the pace of regulatory and technology change, while many others are growing rapidly, finding opportunities for expansion in an uncertain market.
What sets high-performing medical practices apart from those falling behind? What can we learn from each?
I recently carried out a survey of over 2,000 medical practice leaders on behalf of CareCloud to try to get to the bottom of this gap. I created five categories to measure practice success: practice collections, number of practice locations, number of providers, total patient volume, and provider satisfaction. We ran the survey in March 2017 and found that 24 percent of practices qualified as "high performers" who were seeing a lot of growth and success. About 15 percent of practices qualified as "falling behind."
24% of the 2,000 medical practices surveyed are "high performers" – 15% are "falling behind."
There were no major geographic, specialty or size differences between these practice groups in the data. What was causing some practices to thrive and others to fail? The survey revealed a few surprising correlations:
Happy Physicians:
By far, the strongest correlation to practice success was physician satisfaction. Providers and staff in high-performing practices report almost 10 times higher rates of overall job satisfaction, 69 percent compared to only 7 percent those working in falling behind practices. If you're unhappy in your medical career, odds are that your practice isn't doing well either.
Realism
High-performing practice physicians realistically assess and plan for the challenges facing practices today. High-performing practices are more likely to have a plan for value-based care compared to those falling behind.
Listening to Patients:
Opening up to patient feedback hasn't been easy for many medical practices, but our survey showed it matters a lot to the bottom line. More than 80 percent of high-performing practices gather feedback from patients through surveys and online review sites, compared to almost half of falling behind practices that collect no feedback from patients.
Planning Ahead:
High-performing practices are almost twice as likely to have a plan in place for the transition to value-based care and also almost twice as likely to be ready to earn a MACRA incentive this year compared to falling behind practices. Understanding the opportunities in this changing healthcare economy is crucial to your practice success.
Embrace Technology:
Health technology goes way beyond EHRs for high-performing practices. These successful groups are embracing patient portals, advanced population health analytics, telemedicine, iPad-based intake forms and check-in kiosks.
At the end of our research work, I had a much clearer picture of high-performing medical practices in the market today. I was surprised to see that high-performing medical practices were so focused on patient experience and making big investments in technology and feedback programs to support that. At the time, the news was dominated with uncertainty about health reform and we just didn't see that anxiety reflected in the practice responses. High performers are moving forward with value-based care regardless of the debate in D.C. Finally, practices that perform better have a patient-centric attitude embedded into everything they do.
Millennials seem to be raising expectations as patients. They expect to check for physician reviews before scheduling an appointment online. They expect to have everything be seamless and integrated during their medical appointment. They expect the kinds of technologies that we see everywhere else in life to be in the medical setting, too. Approximately, 14,000 of these patients are even Instagramming a photo from their doctors' appointment with the hashtag #doctorsvist. High-performing practices see this change happening and are responding. They're not fighting the change, but instead embracing openness, creating "grammable" patient experiences, listening to feedback and building teams of happy physicians.
Download the report to learn more ways high-performing practices are getting ahead.
---
Daniel Sabido is CareCloud's Director of Product Marketing, where his responsibilities span the entire portfolio of products, and is particularly focused on identifying trends that will affect the performance of medical groups across the country. Previous to joining CareCloud, he was an Engagement Manager at OC&C, a global management consultancy, based in their London HQ where he focused on B2B clients. Daniel has also held strategic planning roles at McCann Worldgroup in New York and at the Monitor Group as a consulting analyst.
Daniel holds an MBA with Distinction from the London Business School and completed his undergraduate at the University of Pennsylvania's Wharton School with majors in Finance and Operations.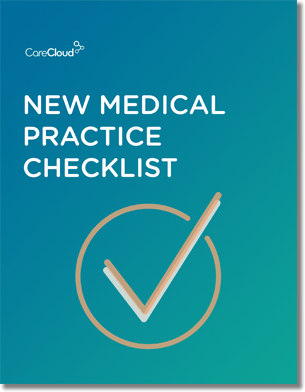 Do you know what you need when setting up a new medical practice?
Get our New Medical Practice Checklist
Download Now!