A number of pre-Information Age concepts seem intimidating when adding a lowercase 'e' before them. In the case of ePrescribing, the apprehension is mostly unwarranted.
ePrescribing only means you're electronically generating prescriptions via automated data-entry processes, using e-prescribing software over a network that links to participating pharmacies.
There are a number of advantages associated with ePrescribing, including enhanced patient safety and quality of care, reduced phone calls and pharmacy call-backs, increased patient convenience, and simplified refill requests and authorization procedures.
One of the most surprising and substantial benefits of ePrescribing is the sheer amount of savings they present to the healthcare industry.
Money Saver
According to a Surescripts study, ePrescribing is linked to an increase in first-fill medication adherence and healthcare savings that could lead to $140 to $240 billion in healthcare savings and improved health outcomes over the next ten years.
Physicians in the study who adopted ePrescribing wrote out nearly 40% of their prescriptions electronically. This resulted in a 10% increase in patient first-fill medication adherence, which translates to fewer doctor visits and a reduced risk of hospitalization.
When taking into account this 60/40 ratio of paper-to-electronic prescriptions, the Surescripts study demonstrated prescription delivery rates rise to 81.8%, and 76.5% get picked up.
This is encouraging, considering so many prescriptions never make it to a pharmacy counter. Surescripts lead researcher Seth Joseph told Information Week this number could be as high as 22% to 28%, based on a Journal of General Internal Medicine study led by pharmacoeconomics authority Dr. Michael A. Fischer of Partners HealthCare.
Are Abandonment Rates a Problem?
Abandonment rates do, however, rise with e-prescriptions, but the study posits this is because a higher percentage of prescriptions make it to the pharmacy. There seems to be no correlation between abandonment rates and ePrescriptions themselves.
Thus, abandonment is not a true reason to doubt technology. In a Surescripts statement, Harvard Medical School researcher Dr. William H. Shrank confirmed the study demonstrates "a clear link between e-prescribing and first-fill medication adherence."
This gives hope to the potential of technology to improve the efficiency of drug therapy, which Shrank hopes will "promote better health outcomes and reduce costs."
ePrescriptions not only fulfill Meaningful Use requirements, but they help save your practice money. Furthermore, it's clearly important for patients at your practice to adhere to their medication regimen, seeing as it contributes to their improved health and a more organized practice.
Still, some physicians are averse to the technology, partly because EHRs haven't made ePrescriptions simple enough to use.
Has your practice incorporated ePrescriptions? If not, what steps are you taking?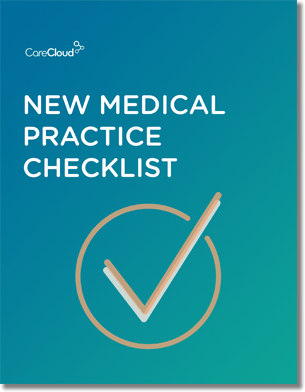 Do you know what you need when setting up a new medical practice?
Get our New Medical Practice Checklist
Download Now!