One of the requirements of medical practice management that is important to the income of an office is that someone must check with insurance carriers on the eligibility and benefits of patients.  There are several ways this can be accomplished, depending on the insurance carrier and individual office processes – and there are a few important questions to ask.
Generally, when a new or returning patient comes to a medical provider they bring along their insurance identification card.  The person responsible for checking them in should then check with the insurance carrier to ensure that the information on the card is up-to-date and correct.
This can often be accomplished by checking the website of the insurance carrier or calling a representative of the insurance carrier.  Some practice management systems and clearinghouses are also capable of checking patient eligibility.
A primary care provider may be interested only in whether or not the insurance is in effect at the time of service and the patient's responsibility, whether it be co-pay or coinsurance for a primary care visit. A specialist, on the other hand, needs to check to see if the co-pay for a specialist visit is different from the co-pay for a primary care encounter.  A specialist also needs to verify if their services will require a referral or pre-authorization.
The provider, whether a primary care doctor or a specialist, also needs to know if they are in-network or out of network with the insurance carrier, as the benefits will most likely differ.
Providers seeing Medicare patients definitely need to check with the carrier prior to seeing the patient, as coverage with a Medicare Managed Care Plan can be very confusing to the patients.  Many Medicare patients will tell you that they have Medicare and show you their Medicare ID cards, not realizing that they are enrolled in Medicare Managed Care Plans.
You can save a lot of delays in getting your claims paid by checking while the patient is there to see if they gave you the correct insurance information.
Appointments for new patients are generally set up in advance and the insurance information should be collected then.  This gives the office time to check the information prior to seeing the patient.  It is important to know what the patient's financial responsibility is before seeing the patient, as it may be more than the patient expects and they may not be happy with a surprise.
There are many things that can influence the patient's responsibility, such as whether or not the provider is in-network if the patient has a deductible, and the type of provider providing the service.
It is best to have a form in front of you when checking for eligibility and benefits so you make sure you don't forget an important piece of information.  Some of the items we suggest that you include on your form are:
Patient's name
Date of birth
Address
SS number
Insurance carrier
ID#
Group #
Insurance carrier phone number
Is authorization required?
Is a referral required?
Is there a deductible?
Address for claims submission
In network or out of network
When gathering all this information prior to treating the patient is done correctly, your office will see a much-improved reimbursement for the services rendered.
How does your practice execute its eligibility checks?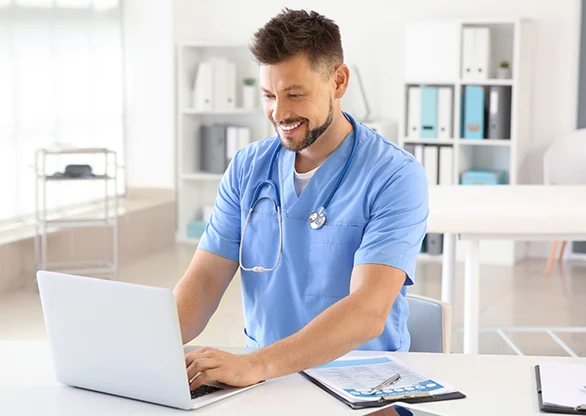 Alice Scott and Michele Redmond are medical billing experts, co-owners of Solutions Medical Billing Inc in Rome, N Y., and coauthors of 15 books on medical billing and medical credentialing. Their newest title is Advanced Medical Billing Marketing for the New Economy.
This mother-and-daughter team maintains two medical billing websites, a free newsletter, and an active forum. Alice and Michele are on the editorial staff of BC Advantage and are regular contributors to the magazine. Their books are available at www.medicalbillinglive.com.
DUMMY_TEXT
Free e-book:
Pros and Cons of In-house vs. Outsourced Medical Billing
Download Now!