According to Proctor & Gamble, shoppers make up their minds about a product within three to seven seconds after coming in contact with it. By that logic, this 'first moment of truth' represents the most important marketing opportunity for a brand. The same is true for patients and their physicians.
But even as this article bridges that time-lapse, I don't know if you've researched Power Your Practice, or come into contact with something else I've written. Maybe you've come across one of our resources or a Quora post.
This kind of engagement is what Jim Lecinski et al. at Google are calling the 'zero moment of truth,' or ZMOT. Essentially, the Google team took a page out of Robert Pearson's 'pre-commerce' philosophy, stressing that customers make decisions to support brands before they even come into contact with a product, with or without the brand's involvement.
This can be true for your practice as well. But how do you get in touch with your patients before they find about you elsewhere?
Manage Your Webutation
Word-of-mouth marketing is the weapon of choice for most practices. The information age has brought about a revolution in the way we communicate and craft messages.
So it's only logical that prospective patients take to the web to research you since you're essentially a product or service they're consuming. They do it for nearly everything else, and sometimes on the spot – over 70% of consumers with smartphones are using them to aid their shopping habits.
How do you even begin to manage your webutation? You may want to begin by opening up a new tab on your browser and Googling yourself. Don't be discouraged by a disgruntled patient or two. As a writer, I've encountered an outspoken commenter or two in my time.
And before this article is over, set up Google alerts with both your and your practice's names. Managing what is published about you is far easier when alerts reach your inbox directly.
This scenario is a testament to that 'knowledge is power' adage you may know, namely because you can take negative reviews and use them to your advantage. First, read reviews of your practice carefully to first ensure the information is accurate. If the content is off, you may be able to convince the website hosting the review to take it down, at least partially.
Next, take the time to post a response if possible, noting your tone and excluding any information that would breach patient confidentiality. Avoid mudslinging and uphold professionalism. No one expects your practice to be perfect, and negative reviews can give you the opportunity to both validate yourself online and make concrete changes at your practice so future patients benefit from a physician who both listens and takes initiative. This is the most direct way to break the 'negative review' cycle.
Find ways to boost your positive reviews, too. It's not unethical to ask satisfied patients to spare 15 minutes to write a review about you on Yelp, as long as you're not planting your own biased reviews or bribing patients. That's potentially more destructive than negative feedback. And remember: positive posts on highly frequented review sites are essentially free ads.
Don't forget to enhance your online presence. Establish a good-looking site, launch a Facebook business page, and Tweet if you have the time. A short video promoting your practice on YouTube would be great, and customer testimonials – even lo-fi recordings – are extremely valuable. Considering the importance of mobile in the 'zero moment,' ensure your site is optimized for smartphones. Click here for more tips on marketing your practice online.
On that note, social networking is a great launch point for ZMOT marketing. By interacting directly with your patients – like publicly conversing with concerned patients, or answering questions quickly –  you humanize yourself and your practice, establish credibility and heighten confidence. Therefore, when potential patients look you up, they feel more relieved and confident that scheduling a visit to your practice would be prudent for them.
And surely you've heard of search engine optimization, but may not be sure exactly what it means. Essentially, you want to optimize your online presence via content that will rank highly on search engines, so you can engage patients before they even read a review. For more information on Google's Keyword Tool and other basic SEO practices, check out this post on the CareCloud blog.
Pre-commercial opportunities are dynamic and likely to go from negative to positive rather quickly. Naturally, the reverse is also true. It's important to keep your ear to the proverbial ground and ensure your image is clean, comprehensive, and cohesive.
Review sites and similar directories:
Yelp – Medicine/Health Section 
Wellpoint's Zagat Survey Tool
Vitals.com
Dr. Score
Check MD
Rate MDs
Check out Power Your Practice next Friday for a fascinating article discussing the value of promoting your practice!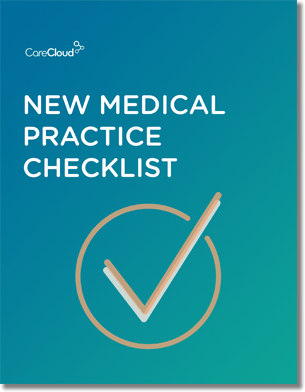 Do you know what you need when setting up a new medical practice?
Get our New Medical Practice Checklist
Download Now!