Cash flow is vital to the success of any practice, so completing the billing process in a timely and efficient manner means submitting claims correctly and receiving proper reimbursement.
"There are many things a medical biller can do to help them stay current on changes, as well as to ensure claims are billed and processed correctly," said Ellen Risotti-Hinkle, a billing and coding consultant for VEI Consulting, and member of AAPC. "I'm amazed by some of the things medical billers should be doing, but aren't."
According to Risotti-Hinkle, the following are the top seven things every medical biller should be doing right now to ensure the success of his or her practice.
1. Know your LCDs. Local Coverage Determinations (LCDs) are something every biller should be familiar with, especially how they relate to specialties and regularly billed services. LCDs explain if and when a Medicare carrier will cover certain procedures, under what circumstances a procedure is deemed medically necessary and may also contain information on coding guidelines and reimbursement. "Knowing which diagnoses are considered medically necessary (i.e., payable) will also help a biller know if the patient should be signing an Advanced Beneficiary Notice," explained Risotti-Hinkle. "Being aware of any special coding guidelines is also invaluable information that can help ensure claims are submitted properly and reimbursed the first time through."
2. Work on your electronic submission reports. Submission reports can be utilized to verify that claims were submitted and received by payers. The reports also show which claims were rejected and why. Reviewing these reports will enable you to head off potential denials as claims can be corrected and resubmitted immediately. Any claims that did not make it to the payer can be investigated and errors corrected as well. "If these reports are not worked, it may take two to four weeks before a denial may be received. Often times a denial may not even come back in instances in which the payer never received the claim. Working reports will alleviate this issue and help ensure timely payment of your claims," said Risotti-Hinkle.
3. Work your denials. "Denials seem to be the area that billers like the least and often procrastinate about the most," Risotti-Hinkle said. "Believe it or not, insurance companies make mistakes and so do billers. Perhaps the claim was billed correctly, but the insurance company made an error and denied it. Perhaps there was an error when the claim was submitted. Don't assume everything is correct. Investigate it. Work it." Biller's should devise a regular schedule in which they work their denials, too, whether it's a "tickler" file or a work queue on the computer. Continue to follow up on any denials on a regular basis until they are paid appropriately.
4. Don't be afraid of appeals. Payers don't always follow coding guidelines. Providing documentation of why a claim deserves to be paid can get the claim processed. "Don't be afraid of appeals. Take the time to write that letter, gather your proof and submit the appeal to the insurance company. You may be surprised at the results," said Risotti-Hinkle. "Nothing is more rewarding then receiving the payment on a claim you appealed successfully."
5. Know your fee schedules. Insurance companies make mistakes. If they reimburse a service at a lower rate than the fee schedule states, a large amount of revenue could be potentially lost. Knowing the contracted amount a payer should be reimbursing and monitoring the payments received can prevent this type of a loss.
6. Register for  — and actually use — payer websites. Many payers have websites that utilize real-time information, which could be a tremendous help to a biller. Being able to access a patient's eligibility or benefit information could result in the ability to collect the patient's share right at the time of service. "So many billers register for these websites, but never take advantage of the benefits. Whether it's checking eligibility and submitting claims, or checking a claim's status and retrieving explanation of benefits, a biller can accomplish many tasks with the click of a button," said Risotti-Hinkle.
7. Stay educated. Several resources enable billers to stay current and educated in their field of expertise. "The medical billing industry is always changing. Not keeping abreast of changes can result in denied claims and financial losses," Risotti-Hinkle said. She encourages billers to join listservs, sign up for payer newsletters, or to subscribe to billing and coding alerts from specialty societies. "These types of things will help billers keep up to date on changes and ensure they're submitting the most accurate claims possible."
Steff Deschenes is a new media producer at MedTech Media. Her articles appear regularly on several MedTech properties, including PhysBizTech, an online publication covering business and technology issues for small physician practices.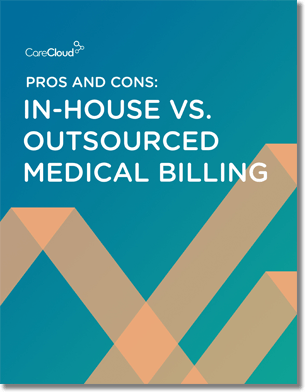 Free e-book:
Pros and Cons of In-house vs. Outsourced Medical Billing
Download Now!