Choosing the right solution to replace your current PM system is one of the most critical business decisions you will face. After all, your practice will rely on it every time a patient walks in.
While the basic features of practice management systems may seem similar – submitting claims, collections, reporting, etc. – modern systems will deliver these tools in a package that is designed to grow and change as your practice does.
Design is one critical dimension. In the era of Facebook, Apple, and Amazon, your software should look like something you'd want to use, even when you walk out of the office. That means attractive, thoughtful screens that provide you with timesaving drag-and-drop capabilities, the ability to work across multiple tabs, and other staples of today's best technologies.
To make selecting a system that will grow with your practice for years to come a little easier, here is a list of essential questions to have handy when doing your research.
The Vendor
Does the vendor offer a full spectrum of practice solutions, in case I need them?
☐ Practice management
☐ Revenue cycle management ☐ Electronic health records
If the vendor offers more
than one solution, did it develop them itself – so they seamlessly integrate – or cobble them together through acquisitions?
☐ Yes ☐ No
Does the vendor force me to buy what it wants to sell, or does it allow me to buy only the solutions I need, as I need them?
☐ Yes ☐ No
The Technology
Was the practice management technology created during the same era as Facebook and other modern online services (2005 and after), or before?
☐ Yes ☐ No
Is it built using the latest open source technologies?
☐ Yes ☐ No
Design
Is the software well designed and attractive, resembling online services I use in my daily life?
☐Yes ☐No
When I use the software, does it behave like other solutions I'm already used to? (e.g., extensive use of drag-and-drop, ability to open and work within multiple tabs, etc.)
☐ Yes ☐No
Does the software appear to have been designed with the people who use it in mind?
☐ Yes ☐ No
Accessibility
Can I access the software whenever I need it and from any location?
☐ Yes ☐ No
Can I access the software through any browser I want? (e.g., Chrome, Firefox, Explorer)
☐ Yes ☐ No
Can I access the software through any type of computer/operating system the people in my practice may want to use? (e.g., Windows or Mac)
☐ Yes ☐ No
Modern Capabilities
Will the software be able to handle upcoming coding changes and requirements, such as ICD-10?
☐ Yes ☐ No
Can the software be integrated with other key solutions in my practice? (e.g., another vendor's EHR, patient check-in solution, etc.)
☐ Yes ☐ No
Support
Can I talk to a live person when I have a question?
☐ Yes ☐ No
Do I have multiple options for contacting support?

☐ Phone
 ☐ Email ☐ Live online chat
Is support based locally in the U.S.?
☐ Yes ☐ No
Does the vendor require an upfront investment in order to "turn on" the solution?
☐Yes ☐ No
Does the solution offer a predictable monthly rate?
☐ Yes ☐ No
Is the monthly rate tied to a measure of actual use of the solution? (e.g., users or encounters)
☐ Yes ☐ No
Does the vendor make me pay for updates, or have other hidden fees?
☐ Yes ☐ No
in one place to maximize productivity?
☐ Yes ☐ No
Does it deliver real-time analytics, easy-to-understand charts, and self-populating graphs that simplify reporting, managing, and forecasting?
☐ Yes ☐ No
Stay tuned for our final installment, where we'll provide invaluable tips on how to actually simplify the switch. It's the stuff vendors don't ever tell you!
---
The material and information contained on this website is for general information purposes only. You should not solely rely upon the material or information on the website as a basis for making any business, legal, medical, or any other decisions. While we endeavor to keep all information up-to-date and correct, all information in this site is provided "as is," and CareCloud Corporation and MTBC Inc. make no representations or warranties of any kind, express or implied, about the completeness, accuracy, reliability, suitability, or availability with respect to the information contained on the website for any purpose. Any reliance you place on such material is therefore strictly at your own risk.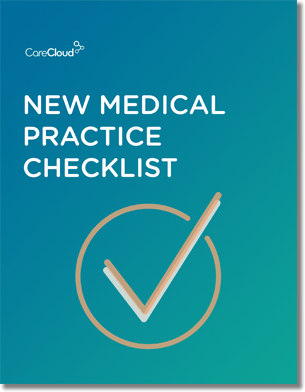 Do you know what you need when setting up a new medical practice?
Get our New Medical Practice Checklist
Download Now!