A number of professionals will get back to you on answers to certain questions – consultants of various sorts, lawyers, general contractors, and even accountants. Don't be surprised if they bill you by the hour, either.
However, because of the urgency of the occupation, physicians must make critical decisions on the fly at the point-of-care (POC), meaning data entry during the patient encounter. But doctors all-too-often don't have the relevant data to come to the most informed conclusion.
See below for a short primer on the current state of point-of-care data.
Collection of Data
Whether or not you're a fan of tablet computing, you have to admit the machines are apt for a number of alternate uses. Since the medical field is no stranger to mobile apps, it was only a matter of time before someone thought it logical to use tablets to collect information at the point-of-care.
Infinity Home Health Services, an Ohio-based organization providing medical home care services to seniors, found its back office staff re-entering a significant amount of data on a constant basis. Infinity incorporated a tablet EHR, and clinicians in the field began collecting data from patient visits at the POC.
Visit outcomes have become more positive since – in 2007, Infinity patients were 6% below the national average in hospital admittances. Standardization of documentation, forms, and assessments becomes essential to collecting data, and since that data is stored in the system, it's just waiting to be used at the point-of-care.
Beyond the EHR
Electronic health records, on paper, are a doctor's dream – interoperable, often mobile systems that facilitate any and all data related to a particular patient at the click of a button, almost instantly.
And it's this interoperability and access that make the EHR essential to modern practices. The point is to select an EHR that fits with your practice workflow, to facilitate a more seamless point-of-care process. But it goes beyond just the information management capabilities in your system.
And since there are no standards for point-of-care devices, developers know it's all about usability.
As a doctor, for instance, you can't afford to get lost in an endless sea of drop-down menus or inefficient search capabilities. You also don't have the time to go back and edit what you dictated in patient notes. You need your information to be accessible and organized.
And then there's the support for said usability or health information exchanges. HIEs could find and collect patient data and make it accessible digitally. While usability gives physicians a better method to the madness, not having to stop and find patient data gives them the research support necessary to make more efficient point-of-care decisions.
Effects on Cash Flow
Imagine a time to bill rate dropping by, say, 72%, as it did for Infinity?
Point-of-care data means information about eligibility benefit inquiry and response transactions at your fingertips, making it easier to receive payments at the time of service. This takes a load off billers and back-end collection, as well.
In other words, POC increases cash flow and saves physicians money that would be otherwise used to track patient debt. Not to mention, POC increases both physician and patient responsibility simultaneously. It's not a coincidence that 48% of better-performing practices collect more than 90% of patient payments at the point-of-care.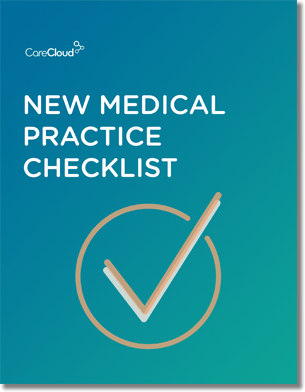 Do you know what you need when setting up a new medical practice?
Get our New Medical Practice Checklist
Download Now!