Revenue cycle management (RCM) is not only about handling medical billing and coding. But it is about streamlining your work process with focused attention so that you achieve your revenue goals. The claim reimbursement rate is a key factor that ensures your financial health and improves RCM. The basic goal of RCM doesn't limit to processing claims, payment, and revenue generation but it also focuses on revenue generation because the reimbursements are also dependent upon care management. Therefore, an effective RCM strategy is a key to enhancing reimbursements. Discussed below are some strategies to help you stay on top of your practice with a steady cash flow.
Top 5 Revenue Cycle Management Strategies
(1.) Review Charge Description Manager (CDM)
To improve reimbursement collections, it is integral that clinical staff communicate suspense times to the departments and state it in their procedures and policies clearly. Suspense times are strict timelines for clinical departments to enter compliant, audited, and correct charges for each rendered service. Each passing day that charges are not entered and missing out on the suspense time can negatively impact practices outstanding cash receivables and cash flow. Thus, a systematic review of the charge description manager (CDM) is vital to ensure facilities collect all charges effectively and do not leave any dollars on the table.
(2.) Meet Filing Deadlines
Many healthcare facilities and providers have unmonitored and inefficient processes. As a result, they fail to file initial claims or respond to a claim appeal. Medicare allows clinicians to file initial claims within 12 months of the date of service provided. Moreover, it enables providers to respond to claim denials within 120 days. However, many commercial payers have strictly limited the claim submission deadline to 90 days based on specific state and payer guidelines. Therefore, it is recommended to have processes in place to submit timely claims and regularly monitor claims on hold to ensure deadlines are not missed.
(3.) Billing and Collections 
According to RevCycleIntelligence, government payers take a few days to several months to reimburse charges against submitted claims depending upon the medical procedure. If your payments have an average turnaround time of more than 30 days, you must develop and implement an effective claim follow-up process. A formal process to follow up on the status of claims can minimize the number of days payment is outstanding.
(4.) Denial Management
A successful denial management system has several functions, including monitoring, reporting, and tracking of denials. Identifying the causes behind denials is significant in implementing an effective revenue cycle management strategy. A follow-up process enables the biller to find whether a claim is accepted or rejected. In case of rejection, billers should work on resubmitting claims after eliminating the rejection's causes and ensure the prevention of repeating the same errors in future submissions. It will help increase the efficiency of the revenue cycle by decreasing the claim denial rate. Furthermore, to prevent future denials, practices should communicate the denials to departments and report by:
Payer and type, reason, and department
Percentage of the revenue submitted
Denials as a percent of gross revenue
(5.) Monitor RCM Key Performance Indicators (KPI) 
To improve your RCM and increase reimbursements, ongoing KPI and department accountability monitoring are integral. To understand and track revenue cycle management KPI accurately, you need to benchmark current performance levels and continually update reporting. For example, suppose the healthcare facility wants to reduce the days in account receivable (AR) by 10% by next year. In that case, you should have a scorecard or dashboard with days in AR with historical values to determine the results of your efforts. Following are the common RCM KPIs:
POS Cash Collections
Clean Claim Rate
Days in Accounts Receivable
Bad Debt
Adjusted Collection Rate
Bottom Line
The revenue cycle is the backbone of any practice to ensure financial sustainability. Implementing the above strategies will require skilled staff with experience in coding, medical billing, and other RCM functions.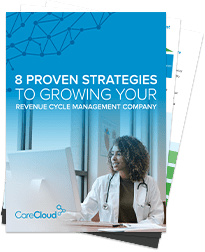 e-book:
8 Proven Strategies for Growing your Revenue Cycle Management Company
Download Now