Value-based care, consumerism., big data, technology innovation and entrepreneurship. These are the primary market forces shaping the business of medicine for practices across the country. CareCloud recently brought together a group of medical practice leaders to dig into how are these national trends are playing out on the frontlines of American medicine. This article is an excerpt from that executive roundtable discussion.
What does it take to grow a surgical practice from one to five locations? In a highly competitive market? Dr. Charles Greene, founder, and president of Jacksonville EMT surgery shared what he learned from doing just that.
He started his presentation by sharing a definition of entrepreneurship and applied it to the business of medicine. He offered this observation, "To be successful in business, you have to have the capacity to be an entrepreneur and have the willingness to do certain things. Everybody has the capacity to start a business. But will it lead to profit?"
He shared that many smaller physicians believed they could not survive in the New Medical Economy and sold their practices. And, while it seemed like a great deal, in the beginning, most of them are having sellers remorse because they don't think it is such a great deal anymore.
Definition of Entrepreneurship
---
"The capacity and willingness to develop, organize and manage a business venture along with any of its risks in order to make a profit. The most obvious example of entrepreneurship is the starting of new businesses. In economics, entrepreneurship combined with land, labor, natural resources and capital can produce a profit. The entrepreneurial spirit is characterized by innovation and risk-taking and is an essential part of a nation's ability to succeed in an ever-changing and increasingly competitive global marketplace."
What's the difference between succeeding and failing in this competitive environment? Dr. Greene offered his insights, which also serve as a strategic framework for running a successful medical practice.
Understand your risk and how to manage it.
Innovate. Make something better. It doesn't need to be new, it just needs to be better than what is currently out there.
Understand your own strengths and weaknesses as well as the strengths and the weaknesses of your competition. If you're in a private practice, your competition is the hospitals. But it's also the insurance companies. Insurance companies are striving to give their members access to the highest quality care at the lowest possible cost. And, the pressure is on their network providers to help them deliver. Hospitals and big systems can be less efficient, more expensive and, in many cases, unable to provide the personalized services that patients want.
Know the rules of getting paid. Sadly, the rules change all the time and we're working harder for less. In order to succeed, we need to play by their rules. Get prior authorizations and work on denials. And, most importantly, work on your insurers for better contracts and carve-outs. Surround yourself with smart people who will be critical about what you're doing and give you a reality check.
Remember that it's not all about you. You won't succeed in business without customer service and effective marketing. You need to be good at what you do and people need to be able to find you by searching for what you're good at. You need an effective website, SEO, and even a pretty office with concierge services that make people feel good.
Strategies for Success
---
Be organized and willing to manage things you may not want to manage, including risk
Be innovative, but also have a plan
Be competitive
Surround yourself with smart people
Stay focused on the customer
The Master Key: Knowing your Numbers
Running a successful medical practice means understanding your numbers. How much it costs to do business, including a deep understanding of overhead and all its components. This can only come from regular meetings with accountants and lawyers and an effective practice management system. And it should be supported with a compliance program so you don't erode away any profit you do make. A successful medical practice requires a deeper level of business acumen than most physicians enter practice with, but it's never too late to start.
"You have to know your numbers. If you don't have a system that has good analytics, and you don't know your numbers, and if it's not there like that, you're behind the 8 ball."
Your numbers can tell you:
What your expenses are per week/month to know your target revenue minimum.
Which procedures are most profitable, so you know which patients to keep and which to refer.
Which procedures you do well, so you can negotiate for carve-outs with your insurance company.
Where to invest your dollars to support your business. Ancillary services allow patients to get everything they need in one place. Well-trained mid-level providers can be your clone, supporting your patient with services that aren't profitable for you to deliver on your own.
Medicine is a tricky business. Not only are you investing your own money, you're dealing with government regulations and patient risks. Your financial success is on the line from all fronts. In the competitive environment, if you don't have a plan, you're eventually going to see a decrease in revenue. A cool personality can only take you so far. You'll start working harder and harder, making less money, and losing any semblance of life balance that should be your other measure of success in this economy.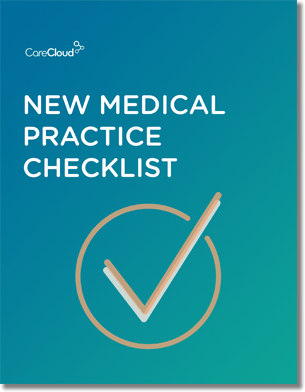 Do you know what you need when setting up a new medical practice?
Get our New Medical Practice Checklist
Download Now!