So your practice's physician has asked you to create a website for the office, and with a blank stare, you modestly agreed.
Before you start having palpitations, realize that creating a website today is nothing like it was during the Internet's code-heavy beginnings.  Because of advancements in programming, almost anybody can design an appealing and functional website to attract new customers, or in your case, patients.
Here are four essential tips for creating a successful medical website design.
Domain Name Game
First, you'll need to register a domain name and web hosting plan to house your practice's website.
Almost any commercial hosting plan will work if you're a small to medium-sized practice. Go Daddy, FatCow, and Network Solutions provide affordable web hosting solutions for all kinds of businesses.
Today's average .com domain name costs approximately $8 to $10 to register.
Your domain name should be your website name. This way people can easily find your website through major search engines. Some examples of good medical domain names include Coral Gables Cosmetic Center's coralgablescosmetic.com and New York family practitioner Westside Family Medicine's westsidefamilymedicine.com.
Content Management System (CMS)
The core function of a content management system is to visually present information on websites. Install a CMS to publish, edit and modify web content on your page.
Web content includes text and embedded graphics, photos, video, and audio that displays content or interacts with the user.
We recommend using WordPress because of its intuitive nature and user-friendly approach. Not to mention, it's free.
"People come to WordPress when they want to do something quickly and when they want it to be easy to maintain," said Matt Mullenweg, co-founder of WordPress.com.
WordPress is widely considered to be the easiest CMS for non-technical users and offers more than 21,000 plugins.
To Theme Or Not To Theme
As website development has grown, two types of website development businesses operate in the field – those that use themes, and those that do not.
Businesses that do no use themes create a web design from scratch – a much more daunting task, which usually requires a couple of in-house or outsourced designers. But those that do use themes start with web browsing functionality and design has already been taken into account.
In other words, unless you have web design experience or the money to hire a designer/branding agency, it's probably best to select one of the themes or templates provided by your CMS.
A theme is a set of files that allow the content of a website to be shown in a certain way, including images, colors, styles, fonts, and so on. These themes also often have particular layouts like, say, 2 or 3 columns, or you may sometimes have to decide between fixed or fluid formats.
WooThemes and themeforest are two popular tech companies that create WordPress-friendly themes as well.
What To Write About
Make sure your website, at the very least, has an eye-catching home page and an informative About Us section.
The About Us section gives you the opportunity to speak directly to potential patients about your services. Include your specialty services, awards, or certifications and what makes you unique. You'd be surprised how much a good about us section can influence patients.
Also never, ever, EVER forget to include your contact information and an easy way for patients to get in touch with you. Social media can help in this regard as well.
According to Mike Sevilla, MD, family physician and blogger at Family Medicine Rocks, doctors should consider creating an online/social media presence to manage their online reputations.
"I say [to physicians and providers], go to the computer, turn it on, [search] your name, and what do you get?" said Sevilla. "A lot are surprised their first link isn't when they were named physician of the year – it's a physician-rating site called HealthGrades, and when they read it, they're shocked that patients are talking about them and they didn't know it."
Building a simple, SEO friendly website can help drive users to your practice instead of these third-party sites.
Social media is a powerful tool, too, Sevilla added, and providers and physicians need to know not only about how to use it, but also how to use it to their advantage. "Especially primary docs," he said. "If there are things you talk about 15 times a day, take a flip cam, record it and say 'Hey, here's the short answer. For the long answer, go to the website.'"
As you can probably tell by now, there are several steps to consider when creating an online presence. But don't fret! All of the web solution services we've recommended provide users with plenty of training resources. Make sure to take full advantage of any videos, online tutorials, or training guides they provide.
What website services or tips would you recommend to other medical practices? Let your fellow providers know in the comment section below.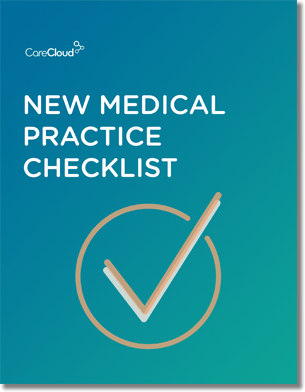 Do you know what you need when setting up a new medical practice?
Get our New Medical Practice Checklist
Download Now!