There are so many things you want to do, but don't have the time or energy. There aren't enough hours in the day. Everything seems to bleed together.
If these are familiar sentiments at your practice, then it's probably time you listen to us and consider implementing an analytics system.
This kind of business intelligence aggregates data much faster than humans do, providing organization and information necessary for your staff to perform efficiently and on time.
Power Your Practice is here to help enhance your operations with the last installment of the Actionable Analytics series. Read along to learn about maximizing employee productivity with customized to-do lists and other reporting functionalities.
Improve Productivity and Collaboration
Instead of creating additional tasks for your staff, embedding actionable analytics into your workflow will actually increase productivity.
Automated ongoing analytics make this process 
 – as opposed to the traditional manual and paper-based reports, spreadsheets and data collection methods – much simpler.
A business intelligence system that aggregates data across the organization provides practices the information necessary for up-to-the-minute data assessment of staff performance, tasks completed, error tracking, daily staffing requirements and so forth.
Alerts can be set that trigger when certain thresholds are met and notify the appropriate staff member to take action.
Employee productivity can be tracked with customized "to-do" lists that queue up individual tasks and assignments, so managers can see exactly what each staff member has accomplished and has pending, preventing important tasks from falling through the cracks.
These reporting functionalities should be combined with the ability to effortlessly share data in formats that are easy to read  – providing increased accountability and transparency for your entire team.
Staff members can share, collaborate and comment on real-time reports to allow for instant optimization, without all the work customarily associated with in-depth reporting and review.
Measuring historical performance data against current figures will give practices the ability to determine averages, assess current performances, set future goals and evaluate whether strategies are working effectively.
Embedding analytics into your practice workflow will increase visibility for decision-making, increase staff productivity, reduce labor costs and improve patient care.
The Bottom Line on Analytics
Analytics is the most powerful tool your healthcare organization can use to improve operations, enhance efficiency and deliver a better patient experience.
Traditionally, compiling and utilizing the data necessary for optimization has created a barrier to entry for most practices with limited resources; however, advancements in technology and the increased adoption of cloud-based systems have made utilizing actionable analytics more affordable and accessible for healthcare organizations of all sizes.
If your practice is struggling with being profitable, adapting to changes in governmental requirements or providing the highest level of care to your patients, implementing this 10-step "Actionable Analytics" strategy to incorporate analytics into your operations can be the first step toward optimizing your business and improving care for your patients.
[do action="separators"/]
Are you as sad as we are about our Actionable Analytics series coming to an end? No worries! Download our free Actionable Analytics whitepaper today!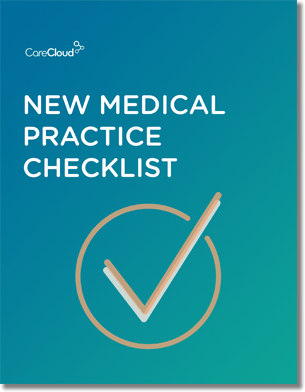 Do you know what you need when setting up a new medical practice?
Get our New Medical Practice Checklist
Download Now!