Completing a thorough, accurate patient encounter can be a time-consuming part of your workday. Documenting clinical encounters can slow your practice down, especially with new or complex patients. An electronic health record solution that streamlines tasks through innovative features can make the difference between getting some of this time back and compounding the issue. How can you tell the difference?

Make sure the EHR system you select for your practice allows you to:
#1. See all the Relevant Information on one Screen
Not all EHR software makes documentation easy. In fact, many systems make you toggle between screens when searching for and documenting the most appropriate findings for your patient. Even important medication interaction alerts can require numerous clicks through multiple screens to get to the details. Instead, look for an EHR that is simple to learn, easy to use and puts all information you need right where you want it. As the AMA says, usability should be the most important factor in EHR design.
#2. Rapidly Chart your Patient Encounters
Order sets, for example, can save providers and medical groups significant time. They speed up documentation, especially when you tailor them to the most common diagnoses, lab orders and prescriptions for your patient population. Plus, the time you save on documentation can be spent on direct patient care.
#3. Seamlessly Integrate with your Practice Management Software
Providers and practice staff can end up doing more work than necessary if EHR software and practice management systems don't communicate well. Fully integrated EHR/practice management systems, on the other hand, can speed up workflow and prove easier to use. Ready to see an example? CareCloud incorporates all these features and more in a modern, cloud-based EHR.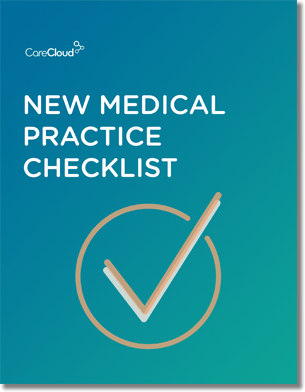 Do you know what you need when setting up a new medical practice?
Get our New Medical Practice Checklist
Download Now!