The healthcare industry evolves rapidly – doctors' needs change on a near-daily basis, meaning medical practices should be equipped with the tools that will help them become more profitable and make their days easier.
And since CareCloud is always in the habit of rising to the task, we're proud to launch the next generation of our cloud-based electronic health record solution, Charts, a Meaningful-Use certified system that works the way your practice does.
Designed in collaboration with dozens of physicians and medical group practices, the release features powerful new capabilities – real-time patient flows, rich clinical summaries, rapid charting, intelligent task management  – to facilitate faster clinical encounters and award doctors more control over the administration of their offices.
The announcement comes at the heels of CareCloud's Series B funding announcement in June 2013 and reinforces the company's long-term goal to improve the way healthcare is delivered through cloud-computing, superior design, and overall creative problem-solving.
Many thanks are in order, beginning with our existing clients, whose unwavering support has helped us serve them more efficiently. And of course, thanks to every CareCloud department – from Engineering to Operations – who ensure our company keeps attaining milestones like these. 
And no release post is complete without a few inspirational words from CareCloud Chairman and CEO, Albert Santalo:
"Physicians are facing pressures to adopt and use EHRs to comply with various healthcare reform efforts and demonstrate Meaningful Use. It's clear there is a growing number of providers and groups that signed up for their first EHR in haste and are now entering the market again, wiser about what they need in a clinical system. Specifically, they are looking for a more modern, pay-as-you-go, ubiquitously available, more usable, and faster EHR.
We have delivered just that solution."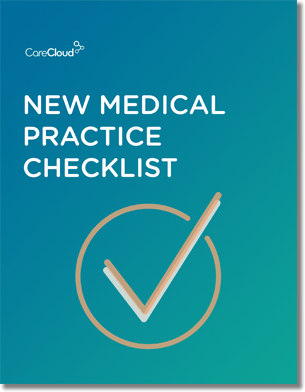 Do you know what you need when setting up a new medical practice?
Get our New Medical Practice Checklist
Download Now!