AI is present in our daily life, sometimes without even knowing it. AI technology is being used to improve our human efforts' speed, accuracy, and productivity. Examples include automated vacuum cleaners, self-driving automobiles, and even manufacturing robots. In a recent Pega poll, 33% of participants believed they employed AI technology. But, when questioned further, 77 percent of respondents admitted using AI-powered services and gadgets. All businesses attempt to adopt the technology in some way, shape, or form, as AI has recently become a buzzword. It has become essential to revenue cycle management due to machines' ability to analyze massive amounts of data and predict consumer behavior. But how does AI benefit revenue cycle management (RCM) solution?  
Here, you will look at how AI is applied in RCM and the advantages it can bring to your practice.  
What is Revenue Cycle Management? 
The managing and collecting payments process for medical services is known as RCM. This covers every aspect, from patient collections to billing and insurance claims. It is a crucial component of your healthcare organization because it ensures that health systems can profit and cover their costs.  
However, the constantly shifting healthcare landscape is one of RCM's biggest challenges. As technology is introduced, insurance companies' policies and regulations change too. Because of this, businesses may need help to be profitable while keeping up with the latest trends.  
By automating particular tasks and predicting consumer behavior, AI can assist your organization in overcoming some of these difficulties. A patient could automate the billing and insurance claims processes. Also, to help businesses in managing their cash flow, it can also be used to forecast how much a patient is expected to owe on their account.  
The Use of AI in Contemporary Revenue Cycle Management 
AI can be applied to the revenue cycle management process in several ways: claim processing, rejection management, patient billing, and collections. According to a study done by Change Healthcare, two-thirds of healthcare facilities and health systems are utilizing AI to help their revenue cycle. Of those, 72% of respondents said they use AI tools to verify their eligibility for benefits, and 64% said they use them to estimate payments. Well, AI impact upon RCM in the following ways.  
Claim Denial Management
Managing denials is one of the most difficult problems that medical practices encounter. Claims can be processed and analyzed with AI substantially more quickly and accurately to eliminate problematic contradictions. They are allowing RCM to smoothen the revenue cycle. According to CMS, RCM spends an average of 45% of the time on claims-related activities, so technology can help streamline this process.  
Assist in Forecasting Trends
Concluding patient behavior is another way AI can optimize the revenue cycle management solution. AI can detect which patients are more likely to make on-time payments and even predict how much they will ultimately owe by analyzing enormous volumes of data and forecasting trends and patterns. This allows your practice to generate more revenue effectively.  
Knowledge of Patient Financial Affairs
AI can assist your firm in better understanding the financial circumstances in addition to accounting cash flow. Practitioners may get a clear picture of the payers available for each patient by examining data like insurance plans and payment histories, making it simpler to give them the support they require.  
Improving Claim Submission Decision-Making Process
AI can strengthen the decision-making process regarding claim submissions in addition to helping to improve claims processing and decrease denials. RCM solution can choose which claims to submit to improve their reimbursement chances by looking at patient demographics, insurance plans, and prior payment history provided through assistance of AI.  
Improve Billing Precision
Medical billing could become more accurate and precise using AI. The professionals dealing with RCM can decide which services are being given and what prices should be charged for them by analyzing enormous volumes of data, enabling greater consistency and better records management. By doing so, AI technologies could make it obsolete for claims to be manually audited to ensure accuracy, saving practitioners much money.  
Analytics and Reporting
Using AI in revenue cycle management also has the benefit of generating precise and comprehensive reports. This can then be used to pinpoint problem areas and implement new procedures to increase revenue process effectiveness. Revenue cycle management solutions can boost patient care and satisfaction while also improving operational efficiency in this way.  
Thus, AI plays an increasingly important role in revenue cycle management.  
Conclusion 
This article outlines the benefits of AI impacting the effectiveness and results of your revenue cycle management (RCM) system. AI can improve billing accuracy and streamline procedures in the healthcare industry. 
To optimize your revenue cycle using the most recent AI technology, contact CareCloud immediately. We can assist you in optimizing your RCM to improve care coordination, lower expenses, and raise patient satisfaction.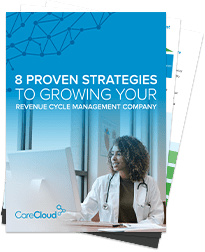 e-book:
8 Proven Strategies for Growing your Revenue Cycle Management Company
Download Now