We are living in a patient-centric technological, outcomes-based, digital world. Doctors must not only give accurate diagnoses and the right treatment plans, they must also focus on meeting patients' expectations and changing stereotypes of the medical market. Optimizing RCM services for the business aspect of your practice can help you to collect revenue that is not being accounted for, and improve the patient experience during the healthcare revenue cycle management process. 
Take a Look at Internal Flaws
Monitoring of the balances of accounts as well as the number of days spent in collection, and the percentage of denials provides finance managers with data needed to detect internal flaws and develop strategies to increase reimbursement rates and decrease delays. The ability to access real-time data on accounts through customized reports allows periodic or weekly reviews of performance to help improve the management of revenue cycles. 
Technical Aspects 
Practice managers who know the technical aspects involved in handling claims as well as all the players that are part of the chain of revenue management are better equipped to tackle the issues that may arise and develop solutions to deal with these difficulties. Revenue cycle management (RCM) services enable practice leaders to collect and analyze information regarding their patient populations and the performance of their revenue streams. 
Ever Changing Scenario
Many doctors simply see patients and help them to feel better and live longer and more satisfying lives. However, in the modern medical field managing the business aspects of patient care requires increasing amounts of time. Making the most of the business aspect of your practice can enable you to get more time for patients.  
What are the most Frequent Difficulties?
The following are some of the main difficulties:
Medical Billing and Coding

 
The most important aspect of getting paid for the services that you offer is sending your bills promptly. Medical billing and coding can consume lots of time and can end up taking more than a single person is able to manage. More than one person could easily be required to get all medical billing and coding completed right the first time but it causes more burden for the employees. If claims aren't coded or properly submitted, they will be rejected by the insurer, and need to be rectified and sent back. 
If a claim is rejected by an insurance provider, one needs to rectify them. However, each time it takes more time for your staff and ends up delay in the payment you rely on to run your business efficiently. To enhance the practice's revenue, follow effective tips to improve your denial management.  
Even treatments and procedures that are coded and invoiced properly can be rejected if the patient's insurance isn't covering the procedure. To maximize your revenue stream, confirming insurance before the procedure is vital. 
If insurance isn't able to pay for a claim, the payment of the medical bill is an unimportant concern to many people. If you don't make consistent efforts at home or with a third party to pay the bill the majority of your expenses are not paid. For this purpose, you need to make sure to have a dedicated team of professionals that will follow up.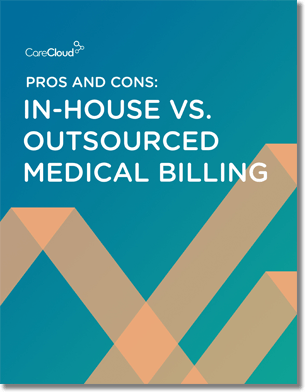 Free e-book:
Pros and Cons of In-house vs. Outsourced Medical Billing
Download Now!