The profitability of any business relies on one core factor: customer satisfaction. Healthcare is no exception. Since the fee-for-service reimbursement model changed to the fee-for-value model, the practice's revenue relied solely on patient satisfaction. In this value-based care landscape, providers are forced to improve their processes to enhance patient care. Patients who have a great experience at a clinic are more likely to visit again and refer it to their family and friends.  
Good patient care starts way before the appointment. It encompasses all interactions you have with your patient, from texts to calls to in-person visits. In this day of social media, we also find online reviews about businesses. A bad review can significantly harm the reputation of your organization. Whereas good reviews help create a reliable image of any business; thus, it is important to assess the current situation of your practice and adapt your strategies to enhance patient care. This article will help you with just that!   
Ways to Improve Patient Satisfaction
Improving patient satisfaction becomes easy when you know where to start. Some of the ways you can improve the patient experience are: 
Simplify Billing Process
Billing is often one of the most complicated tasks for patients and providers. It should be a provider's responsibility to make the billing process easier for their patients. You can accomplish this by either training your staff to effortlessly discuss and collect payments and provide accurate bills or by outsourcing the billing process to a team of experts who will automate the entire process so you can concentrate on patient care. When the patient's bills are paid easily, they will revisit you. 
Improve Communication
Improving communication between patients and providers is key to enhancing patient satisfaction. Often, patients have questions about their treatment and diagnosis. If providers do not have a system to care for the patient's questions, the patient will not feel heard. In this digital age, many systems provide a platform for patients to connect with their providers. One of them is telehealth. Including a telehealth program in your practice will allow patients to communicate with you from anywhere, anytime.    
Set up a System for Feedback
Improving your processes requires constant feedback from customers. You must create a system that takes continuous feedback from your patients so you can stay on top of all concerns. A provider's day is too busy to tend to each patient's concerns, so all practices should automate this feedback process. You must keep asking for feedback and improve your operations accordingly. With feedback, you can also get criticism. Your staff must be trained to handle such circumstances. 
Make Processes Simpler
A patient looks for ease in all services. Long wait times are one of the reasons patients stop going to their providers. Providers should try to automate all possible processes to enhance patient experience. This means online appointment bookings, pre-filling forms, and providing the option of virtual consultations. These features help reduce wait times significantly, thus allowing patients to receive care immediately. 
Focus on Patient Engagement
Patient engagement has been shown to improve patient outcomes significantly. When patients are involved in their own care, aware of their diagnosis, and actively make shared decisions with their provider, patient outcomes improve significantly. Providers should incorporate programs like patient experience management that help patients engage with their treatment. When patients better understand their own treatment plans, they are more likely to follow through to ensure positive outcomes.    
Leverage Technology
In this digital age, every industry has adopted the latest technologies. In healthcare, technologies like EHR, practice management, robotic process automation, and revenue cycle management (RCM) all help streamline and improve operational and financial processes. When providers leave repetitive tasks to these technologies, they can focus on providing excellent patient care. Technology not only helps streamline daily processes, but it also makes patient lives easier. Improved communication, easy access to care, and transparency are all benefits of leveraging technology in your practice.    
Do not Forget your Clinic
It is important to remember the atmosphere of your clinic. From the management of your staff to the business processes, how your practice works directly impacts the patient experience. A messy, disorganized practice often ends up neglecting patients' needs. If your staff is not cooperative, the patient may not feel seen. Thus, ensuring your facility has the environment and management fit to cater to your patients' needs is important. 
Ensure Follow-ups
Follow-ups are a step beyond the patient's visit that helps ensure your patient has the best care possible. Follow-ups show that the patient is a priority and that the care provided to them is of the highest quality. When you follow up after an appointment, you know whether the patient is actively engaging in their care. 
Conclusion
Nevertheless, patient satisfaction is the cornerstone of modern healthcare. Providers must ensure every decision they make keeps the patient experience at the top of their list of priorities. CareCloud was founded with the patient's and provider's needs in mind. Our comprehensive suite of solutions caters to the needs of healthcare providers while also enhancing patient outcomes. CareCloud's EHR helps a patient access their data anytime; its patient experience management software simplifies all processes for the patient; and its remote patient monitoring program helps providers remotely monitor patients.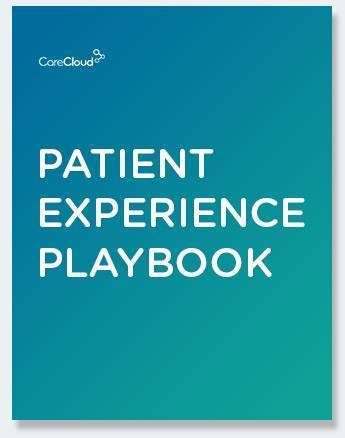 Download the Patient Experience Playbook
Insights into every aspect of the patient journey
Download Now!