Patient experience refers to the interaction of patients with the physician and the clinical staff and how they perceive these interactions. On the surface, the best patient experience management software may involve treating patients respectfully. However, it's so much more than just smiling more often and spending more time with your patients.  
Today, the emphasis is on providing value-based care, and healthcare practitioners are expected to provide more today than they did previously. In the past, an excellent location was the key to keeping patients happy. Today, it's all about the quality of customer service you can offer. 
This guide will explore five easy strategies to help you improve your patient experience management.
5 Strategies to Enhance Your Patient Experience
Strategy # 1 – Focus on a Patient-centric Rounding Approach
Achieving effective patient rounding can help not only treat illness but also to prevent it from happening. Installing programs that facilitate effective patient rounding, for example, implementing a program to record rounding data and analytics, could help enhance patient care.  
It is crucial for healthcare professionals to meet with each patient and provide them with the chance to raise concerns or questions about their treatment. These issues and queries should be dealt with promptly and professionally. They should also be recorded to ensure that the patient's experience can be monitored and improved over time. 
Strategy # 2 – Encourage Patients to Take Part in Their Care Plans
Even where a caregiver isn't communicating directly with patients offers an opportunity to enhance the patient's experience. Use surveys about patient experiences and one-on-one patient and family interviews during waiting room hours. Speaking to your clients is not just a way to get the information needed to determine the areas to improve upon but also gives you the ability to empower your patients to make a difference. It could be a powerful incentive for patients to participate in their health care.  
The most frequent complaint of patients is the time they have to wait before following an appointment. Digital television screens are an established method for reducing the perceived time spent waiting.  
Instead of distributing old publications or brochures for medical purposes, consider using digital signage technology to keep patients waiting and their family members entertained. Caregivers spend more time waiting than patients. Therefore, you should provide the information that improves their health literacy and keep them amused. Patients are also interested in knowing who they can trust to care for their needs. You should provide information about your employees and staff to personalize the overall experience. 
Strategy # 3 – Utilize Survey Tool to Measure Patient Satisfaction
Let patients have a voice by initiating surveys to monitor patient feedback about their healthcare experiences. Surveys can be beneficial to health care professionals to understand and track progress, find areas of improvement, and keep track of information in time. 
Strategy # 4 -Strive for Enhanced Communication at Every Stage
You can use the time to enhance communication when the patient schedules an appointment. For instance, create an automatic sequence of emails or texts to remind patients of upcoming appointments. It is possible to remind them about transportation and parking alternatives or explain what procedures they'll have to go through. You can automate this process by leveraging CRM (customer relationship management) platforms and EHRs (electronic health records) software. Or you can simply implement CareCloud's patient experience management system. 
When patients arrive at your facility or clinic, you can explore ways to improve their satisfaction by communicating. If you plan to map the patient's journey, you may discover that having trouble getting around the building can lead to frustration and delay in appointments. A highly efficient solution is to make use of digital signage technology. 
Strategy # 5 – Keep the Facility Clean
Grime and dirt are small things that are simple to get rid of. Anyone can be put off by seeing stuffing out from the waiting area's cushions and dust on the counters. These minor problems can pile up quickly when patients and their caregivers want to feel comfortable within your workspace.  
If you're out of towels or soap inside the restroom, documents appear unorganized on the reception counters, or a smell comes from the doctor's office, people will consider it part of their experience. Hire someone to clean the office more frequently than you already do to ensure a clean and tidy facility. Make sure you use high-quality cleaning and cleaning products. Also, educate your employees on how important it is to change out toilet paper and towels. 
Bottom Line
This guide walked you through five easy strategies to enhance your overall patient experience management. CareCloud's patient experience management system – Breeze, offers efficient patient registration intakes, a contactless patient experience, a convenient patient payment platform, and a modern patient experience. Get it now to stay on top of your practice.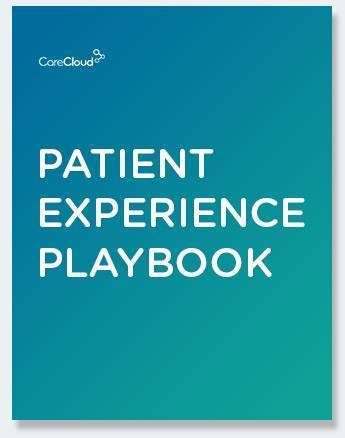 Download the Patient Experience Playbook
Insights into every aspect of the patient journey
Download Now!