Medical billing is vital to the healthcare sector and keeps its finances afloat. But, because of its complexity, even little errors can result in huge losses and legal troubles. Thus, medical billing software may help streamline the revenue cycle management procedure and reduce mistakes. Healthcare providers may enhance their income production and manage their financial processes with the help of this technology. By utilizing the benefits of medical billing software, healthcare organizations may stay clear of the frequent difficulties connected with manual billing techniques and concentrate on providing their patients with high-quality treatment. 
What is the significance of Medical Billing Software?
Medical billing software is an important part of healthcare management, ensuring providers are reimbursed for their services. This program automates and tracks provider credentials, patient data, and claims, eliminating mistakes and enhancing efficiency. With its sophisticated reporting and financial analytics features, medical billing software gives significant insights into practice management and financial performance. 
As the healthcare industry evolves, providers must keep ahead of the curve. Investing in medical billing software is a wise choice for any healthcare practitioner hoping to prevent the negative effects of credentialing errors. 
How can Medical Billing Software help avoid credentialing mistakes?
Medical billing companies can help healthcare providers avoid credentialing errors by automating the verification process and ensuring that all relevant information is accurate and current. This simplifies the billing process, minimizing the likelihood of mistakes, and allows medical practitioners to focus on providing the best possible patient care. 
Here are some ways medical billing software can help avoid credentialing mistakes: 
Verify Provider Credentials
With good reason, medical billing software is an outstanding player in the healthcare sector. It improves the process of revenue cycle management (RCM), and by automating the insurance company provider credential verification procedure, healthcare providers may save countless hours. 
Medical billing software ensures accuracy and efficiency and lowers the risk of denied claims and lost income due to credentialing errors by cross-checking the provider's identity, credentials, and other relevant information against the insurance company's database. 
Healthcare providers that invest in medical billing software can relax knowing that they are giving their patients high-quality treatment while avoiding the risks of credentialing mistakes. Aside from that, remember the peace of mind that comes from not having to worry about the tedious task of manually verifying credentials. 
Ensure Accurate Patient Information
Medical billing software validates patient information such as name, address, and insurance coverage to prevent claim denials due to erroneous or missing data. This saves time and hassle for medical offices and patients. Medical billing software allows medical practitioners to focus on patient care by automating and confirming patient information. 
Moreover, medical billing software is intended to streamline the billing process, assisting medical clinics in improving cash flow and lowering administrative expenses. Medical billing software is vital for every medical business, with advanced capabilities such as automatic payment posting and patient statement processing. Medical billing software helps medical practices streamline their operations and enhance the patient experience by using the power of technology, resulting in improved patient health results. 
Streamline the Credentialing Process
Credentialing can be a time-consuming and laborious procedure for healthcare practitioners. Medical billing software can now automate this process, making it much easier for healthcare professionals to complete applications and send them to insurance carriers. Medical billing software can save healthcare professionals important time and money by reducing the need for manual data entry and other time-consuming administrative duties, enabling them to focus on providing great patient care.  
The credentialing process is automated by medical billing software, which allows healthcare providers to track their applications and receive renewal reminders. This function aids in maintaining industry standards and avoiding compliance difficulties. Moreover, telehealth streamlines patient access and improves medical quality while reducing expenses. Best medical billing company can help you avoid credentialing issues and provide a smoother telehealth experience. 
Avoid Duplicate Claims 
Medical billing software is crucial for healthcare professionals who want to speed up their billing processes and save time and money. It discovers and eliminates duplicate claims and overpayments, improves accuracy, and shortens claim processing times. Providers may immediately analyze and alter claims before submitting them, ensuring that they match the criteria of insurance carriers. 
As a result, healthcare workers can focus on providing exceptional patient care, resulting in increased revenue and patient happiness. Medical billing software may help healthcare providers boost efficiency and optimize their billing operations. 
Maintain Compliance
In the ever-changing healthcare scene, medical billing software keeps healthcare providers ahead of the curve by handling difficult and time-consuming credentialing procedures. It monitors license and credential expiration dates and delivers timely reminders, keeping practitioners up to speed on compliance standards.  
This all-in-one solution is dependable and cost-effective and relieves providers of the burden of manually checking and upgrading their credentials. It's like having a personal assistant who is constantly on point, freeing practitioners to focus on what they do best, providing excellent patient care. Compliance is no longer a hassle with medical billing software but rather a fluid and the uncomplicated component of the everyday routine. 
Conclusion:
This blog demonstrated how providers could use medical billing software to avoid credentialing mistakes. The blog explained that medical billing software could help healthcare providers avoid credentialing mistakes by automating verifying and tracking provider credentials, patient information, and claims. With CareCloud medical billing, you can say goodbye to credentialing errors. Simplify your billing process and concentrate on providing high-quality patient care.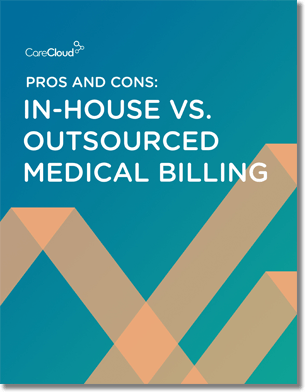 Free e-book:
Pros and Cons of In-house vs. Outsourced Medical Billing
Download Now!