AthenaHealth
To cut down on A/R days and collection costs, AthenaHealth provides a revenue cycle management system. It is a comprehensive system consolidating a healthcare facility's scheduling, billing, and balances while improving your medical billing team's participation with its user-friendly interface. 
CareCloud
Shift the burden of collections off your shoulders to CareCloud's comprehensive revenue cycle management solution. It offers a specialized back-office team with end-to-end services to meet your needs head-on. CareCloud handles all your billing collection activities, from A/R follow-ups to denial management. 
eClinicalWorks
eClinicalWorks offers two different RCM solutions: the self-service Practice Management model, in which you're responsible for your own invoicing, and the RCM Service model, in which eClinicalWorks handles everything from start to finish. Its inventory allocation for better A/R management and alert dashboard ensures higher reimbursement.
NextGen
With NextGen, medical practices can improve their financial performance, gain access to transparent billing services, address operational inefficiencies, and get paid faster. Its charge review engine ensures clean claim submission, and built-in clearing houses help in quick reimbursements. 
Waystar
Waystar's unified platform makes tracking payments from both public and private sources easy. It verifies insurance eligibility and coverage, identifies lost income, and enhances profitability. Besides, it improves patient satisfaction with efficient claim management. 
How to Compare RCM Companies?
According to IMARC, the total value of the global healthcare RCM outsourcing market reached 23.7 billion USD in 2022. Future projections from IMARC Group indicate a market value of 62.40 billion USD by 2028, representing a compound annual growth rate (CAGR) of 17.4% from 2023 to 2028. 
Conducting An RCM Firm Assessment
The first step should be to check the RCM firm's presence in the industry. Knowing how long an RCM company has been in business should be your first and most important priority. If you want to choose a reliable RCM firm, ensure it has been operating for at least five years. A higher number of years in the field indicates greater skill and knowledge.

 
Second, make sure the RCM firm you're considering is ISO 9001-compliant. Comprehending the company's certification legitimacy is important because quality management systems that consistently meet or exceed ISO 9001 requirements are awarded certification.

 

Finding out who they have worked with in the past is the next most crucial step in eliminating potential revenue cycle management firms from consideration. It would be best if you looked at the standard and quantity of their clientele. When they talk about their "large quantity of clients," they mean the large number of customers they've helped. The term "quality of clients" refers to the standard of the routinely assisted customers.

 

Next, try to learn about the RCM firm's claims ratio. However, acquiring information about claim approval and denial rates might be challenging. Most businesses aren't going to be forthcoming about their denied claims. Moreover, patient-side issues may account for some businesses' disproportionate share of rejection instances. Therefore, obtaining this data is challenging. However, we recommend you always inquire about this during the negotiating phase. You can put them on the shortlist if they seem comfortable and willing to disclose this information.

 

Consider the revenue cycle management team before choosing a company to handle the revenue cycle and medical billing activities. The people who run a firm are crucial to keeping in mind. 

 

The support system is another critical component to examine. Healthcare providers must investigate their service infrastructure. There needs to be a focus on processes rather than individuals within the organization.

 
What Questions to Ask RCM Service Providers?
Denial Management Questions
What's your follow-up strategy in case of denial management?

 

Have you set any threshold that triggers follow-ups?

 

What is your success ratio in appealing denied claims?

 

Do you have a denial management workflow integrated into your platform? If yes, can you demonstrate it?

 

Does your company have denial management specialists?

 
Revenue Challenges Questions
How do you optimize the back-office team's process of checking claims?

 

How do you manage an increase in claim denial rate due to coding errors and lack of specialty?

 

How do you reduce documentation time for healthcare providers?

 
Other Important Questions
Do you provide training during onboarding? 

 

Which pricing model do you use? Is it the percentage of collections, subscription model, or pay-per-user?

 

What key performance indicators (KPIs) do you track to ensure a healthcare organization's goals are met? 

 

Do you have dedicated account managers for prompt responses to queries?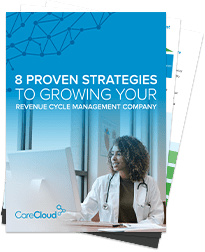 e-book:
8 Proven Strategies for Growing your Revenue Cycle Management Company
Download Now