Remote monitoring of patients (RPM) is a method of delivery of health care that can benefit patients, caregivers, providers, and healthcare facilities by utilizing advanced technology to collect patient health and lifestyle data. From expanding virtual care accessibility to increased communication between patients and clinicians, and enhanced patient self-management to reducing care delivery costs, this guide will explore some of the major clinical benefits of remote patient monitoring (RPM). 
6 Benefits of Remote Patient Monitoring (RPM)
1. Combat Clinical Staff Shortages and Boost Staff Productivity
Remote patient monitoring enables healthcare professionals to prioritize quality-of-care delivery. It allows them to cater to every patient and case with a close look at real-time health status. Several remote patient monitoring (RPM) solutions can integrate physicians' electronic health records (EHR) systems to eliminate the risk of document duplication.  
Additionally, remote patient monitoring services can help alleviate the burden of in-person visits by assisting clinicians in offering some of those services via virtual visits. Besides, it utilizes a team-based healthcare model that ensures provider flexibility. 
2. Enhanced Patient-clinician Relations
According to a research study titled "Patient Satisfaction of Telemedicine Remote Patient Monitoring", every healthcare organization must maintain a good patient-clinician relationship – to ensure full transparency of the patient's state of health, illness prevention, comorbidity monitoring, and care pathways. 
Remote patient monitoring (RPM) solution aid in maintaining a strong relationship between patients and primary care providers by facilitating a better way for patients to interact with their physicians, nurses, and other clinical staff.  
Furthermore, given the pressures and challenges associated with chronic care management, that connection is not just an element of comfort for patients and their families but also an excellent method of involving patients in their treatment program, which increases the possibility of positive patient outcomes during treatment. 
3. Improved Mental Well-being 
Remote patient monitoring not only brings comfort but also increases patient satisfaction and engagement. It assures patients that a team of dedicated medical professionals constantly monitors their condition. As a result, people suffering from high-risk illnesses can sleep in peace.  
Mental peace brings positive mental health effects and an opportunity to reduce the dangers of frequent comorbidities such as depression and anxiety. For instance, according to American Heart Association's research report, remote patient monitoring (RPM) is linked to lower blood pressure in patients in comparison to traditional methods of treatment. 
4. Increased Net Patient Revenue 
Delivering care services virtually is a cost-effective option compared to traditional in-person visits. Moreover, because of improved workflow efficiency, staff productivity, and lower administrative expenses, the net revenue of patients will increase when an organization decides to adopt remote patient monitoring solution. RPM can also provide hospitals and medical practices with the opportunity to create a competitive advantage in the healthcare space. 
5. Encourages Data-driven Clinical Decision Making
Remote patient monitoring (RPM) also benefits physicians by providing them with a better clinical understanding of patients' conditions between in-person visits to the office. Additionally, it facilitates them with tools to ensure care delivery proactively. With it, you can observe how a patient's symptoms evolve with time, enabling the physician to identify trends and alter the care plan accordingly. 
6. 
More Hope for Patients with Chronic Illnesses
Based on the National Center for Chronic Disease Prevention and Health Promotion (NCCDPHP) report, over 877,500 people in the U.S. die from strokes and heart diseases annually. It makes up one-third of all deaths across the States each year. Moreover, other ailments such as OCPD (Chronic obstructive pulmonary disease) and diabetes could significantly change people's lives.  
In the past, getting diagnosed with these long-term illnesses often meant lengthy treatments or prolonged hospitalization. But remote patient monitoring can mitigate these inconveniences, enhancing the confidence of people with chronic diseases in their care plans. Furthermore, constant communication with healthcare providers and the ability to track your health through smartphone apps also contribute to feelings of optimism. 
How Remote Patient Monitoring Can Help the U.S. Healthcare System
The advantages of remote patient monitoring for both patients and practitioners are evident. Let's look at how RPM can help patients, providers and the U.S. healthcare system. If providers can tackle the increasing treatment costs of chronic illnesses, the U.S. healthcare system will be able to divert its efforts toward taking preventive measures. Healthcare leaders are well aware that implementing effective preventive measures is among the most efficient methods to reduce healthcare costs and enhance patient well-being. However, it is challenging to concentrate on it when most of the population is busy dealing with chronic diseases.  
However, with remote patient monitoring, access to care expands, and any changes in health status are addressed promptly to avoid crises resulting in substantial savings over the years due to reduced emergency room visits, hospital admissions, and readmissions. 
The U.S. healthcare system is expected to benefit from RPM by providing quality care services to more people, even in the face of the clinical staff shortage crisis. Because of fewer in-office visits for patients suffering from chronic health issues and greater capacity for other types of visits such as leveraging telehealth solutions.  
Besides, physicians' other team members can also provide their support in monitoring patients enrolled in RPM and thereby removing certain burdens on the providers. 
Bottom Line
This guide walked you through some key benefits of remote patient monitoring for providers and patients. Besides, we also discussed how RPM could help the U.S. healthcare system become cost-effective in care delivery and focus on taking more preventive measures against chronic diseases.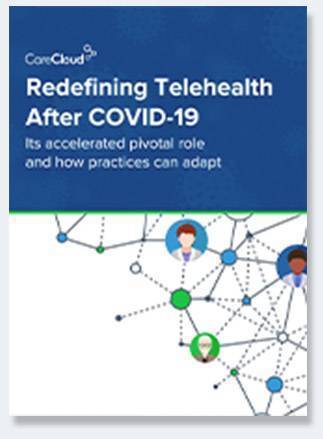 Download your free copy of:
Telehealth Redefined: How Practices Can Thrive in a Post-COVID Standard of Care
Download Now!