No matter how you feel about physician-rating sites, the numbers show that they are here to stay.
Recent statistics confirm that 4 out of 5 Americans use the Web to look for health information online. Half of those lookup their providers through search engines, and about 40% use physician review websites.
With a lot of negative media flying around about physician rating, PYP thought it would be a good idea to get the inside scoop directly from one of the industry's largest players, Vitals.com.
So with no further adieu, here are Kiesha Garrison, Manager of Strategic Marketing Partnerships, and Rachel Sullivan, VP of PatientLink Hospital Solutions, at Vitals.com discussing their website's services and their new space in healthcare. 
1.     What kind of services does Vitals.com provide? 
Garrison: At Vitals, we translate data into actionable information and interactive tools to make health care decisions intuitive.
2.     What was the reasoning behind creating this kind of service?
Garrison: Health care decisions and interactions cause many patients anxiety.  Vitals was created to bring clarity to complex health care options. We help consumers feel confident in their health care choices.
3.     What do you attribute to your popularity?
Garrison: Unlike other aspects of a consumer's life, health care is an area where information access, transparency, and consumer tools are still not widely available.  Patients are turning to the web for help.  According to a study conducted by Pew Internet Research, 8 out of 10 people search for healthcare information online.  For those looking up healthcare providers, Vitals delivers the helpful information they are seeking.
4.     How do you tally a physician's rating on your website?
Garrison: Ratings are tallied from patient feedback in several categories including ease of appointment, promptness, courteous staff, bedside manner, office follow-up, and others.
5.     What sets you apart from other physician rating websites?
Sullivan: While ratings are very important to patients, we realize they aren't the only factor they consider when selecting a care provider.  So in addition to the largest collection of patient reviews of doctors on the web, Vitals also has a very comprehensive set of factual data on providers as well.  It's that combination of comprehensive and essential facts plus the patient feedback that sets Vitals apart.
6.     Have you encountered any killjoys or "trollers" on your website? Are there people who go on Vitals to purposely badmouth physicians even though they have no knowledge of their medical services?
Garrison: Reviews are systemically screened for defamatory or inflammatory remarks, and doctors can suppress two comments.   We strive to preserve the integrity of our rating system by limiting the frequency of ratings that might otherwise be distorted by repeated reviews by the same individual. Vitals also has a devoted Physician Relations team that investigates suspicious comments and responds to physician concerns.
7.     Do you provide any services for doctors?
Garrison: Unlike many other doctor-finder sites, Vitals provides a free platform for doctors to manage their profile and engage patients online.  We allow them to make deeper connections with patients by logging in to add unique information like photos and bios to add the "human touch" to their profile. We also provide them the ability to log in and publicly respond to patient feedback.
In addition, we realize healthcare providers are facing more competition than ever to attract and retain new patients.  So we also offer doctors Vitals Patient Link, a multifaceted marketing approach for attracting new patients. We increase a physician's online presence where patients look for doctors most. We deliver new patient leads to them by engaging consumers when they're searching for doctors in their service area.
8.     Is there anything you'd like to add which you think is important for people to know about Vitals.com or physician rating sites in general?
Garrison: According to a Nielson survey, more than 70 percent of Internet users trust online opinions and ratings.   And while no one likes to receive negative criticism, it is an opportunity to listen constructively to patients' complaints and become aware of issues within their practice that can perhaps be easily addressed.
Doctors can also take a proactive approach to make sure prospective patients get a well-rounded view of their practice and encourage online feedback.  Doctors can request free, customizable comment cards from Vitals they can distribute to patients. The cards basically state: "If you're satisfied, tell others on Vitals. If you're not, tell us." This encourages patients to go online and share their positive interactions with others and hopefully keeps the negative comments offline to be dealt with by the office staff.
What are your thoughts on physician rating sites like Vitals.com? Do you think they help or hurt the industry? Let us know in the comment section below.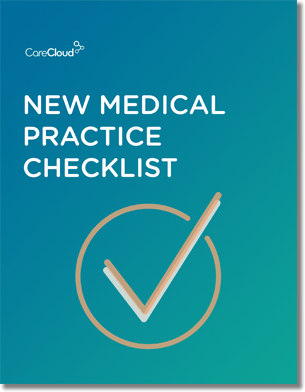 Do you know what you need when setting up a new medical practice?
Get our New Medical Practice Checklist
Download Now!