The challenges of running a business in the increasingly regulated healthcare industry are plenty– from accurately entering claims information to securing reimbursement and collections. Fragmented and inefficient revenue cycle management (RCM) processes can lead to disastrous results for a healthcare organization, and without the necessary insight into exactly where those problems lie, finding a solution can be like trying to find a needle in a haystack.  
When an organization is poor RCM habits, they risk not only a poor balance sheet and stagnated growth but also staff burnout and a negative patient experience. In an industry where margins are already thin, healthcare leaders need to dig deeper, if they truly want to fix their RCM issues and get back on the path to stability and profitability.  
That is where data and analytics come in, offering healthcare leaders insight into exactly how their RCM operations are performing and where the issues lie. Thanks to investments across the board in healthcare IT, there is now data everywhere. However, not all of it is being leveraged to inform healthcare leaders and help them make data-driven decisions.  
The power of big data in the revenue cycle
By leveraging data and analytics, organizations can get insight into payer-specific behavior and use that historical data to predict when claims will be paid, helping healthcare leaders manage the revenue cycle process and forecast revenue and correct issues before they even occur.   
Armed with correlative data from across the enterprise, executives are making more informed budgetary decisions that can help bring billions in annual revenue to the healthcare system by improving payment, revenue cycle and pricing.  
Using that data to determine what your healthcare system will need and when it will need it makes budgeting much easier for your finance staff. In addition, the massive amount of data that healthcare organizations are generating can be leveraged to help eliminate wasteful spending and indicate where more resources are needed within the organization.   
Reduce no-shows
When patients cancel appointments at the last minute, that means lost revenue and an inefficient workflow. However, a recent study shows that analytics models can accurately identify the risk of a patient appointment no-show or late cancellation, which gives the organization the ability to send out extra appointment reminders or offer open slots to other patients.   
Analytical models help reduce administrative burden and improve clinician workflow–not to mention reducing reimbursement losses due to empty appointments.  
Predict remittance
Experts also say    data and analytics can be used to review payer-specific payment behavior to determine how long it will take for a claim to be paid. The data gleaned from these intelligent, cloud-based systems can even help healthcare finance leaders predict–with a high degree of accuracy–what day that payment will arrive.  
Identify inefficiencies and errors in revenue cycle 
Healthcare organizations can also use analytics to identify breakdowns in revenue cycle processes, including when eligibility checks are performed during patient registration but aren't checked again prior to claim submission. That could lead to a claim denial, decreased cash flow, and more time spent on administrative tasks.  
By essentially stopping claims denials before they occur, healthcare organizations can cut down on the time and resources spent on resubmitting claims. With claims denied claims costing more than $260 billion per year, catching these mistakes before they happen can help keep cash flow in the black.  
Value-based care and patient satisfaction
Data and analytics allow healthcare organizations to offer value-based care as the industry moves away from fee-for-service payment programs. Analytics are a critical part of that transition, as they enable clinical information to support the revenue cycle. Value-based reimbursements are tied to what outcomes are shown on the clinical side, so understanding a patient population beyond the diagnosis allows organizations to not only focus on healthcare outcomes, but also opt into financially beneficial programs that offer incentives that align with their population.  
In addition, healthcare organizations can use the power of data and analytics to enhance their patient relationship management initiatives and improve patient satisfaction, helping them encompass the end-to-end patient journey. 
Data and analytics are underutilized in the RCM 
Despite the availability of robust RCM and business intelligence solutions that provide healthcare organizations with that useful data, the industry is still just scratching the surface of what big data can do to improve financial performance. One of those challenges is finding and maintaining an analytics team, as 40% of organizations are struggling to do so. In addition, healthcare providers don't use 90% of the data they generate, according to a recent study, suggesting that there's still a lot of untapped healthcare data sitting out there waiting to be analyzed and put to use. 
Another recent survey suggests that more than three-quarters of hospital and health system executives want to dedicate at least 10% or more of their IT budgets to analytics for revenue cycle management, but 77% say they lack the resources, staff and skills to analyze vast amounts of data.  
Other reasons cited by healthcare executives for investing in analytics include: 
Predicting remittance dates to manage organizational cash flow

 

Identifying potential claim denials before they happen

 

Decreasing dependency on IT resources for accessing necessary information

 
Finding RCM inefficiencies in the early stages

 

Leveraging machine learning to predict changes in payer-specific claims adjudication rules

 
What's more, just over half of healthcare leaders said they plan to deploy analytics solutions in the near future to streamline their RCM operations, identify indicators of RCM weaknesses and strengths, and support patient engagement goals.  
In conclusion 
In the fast-paced healthcare industry where regulations and public health concerns are constantly shifting, gaining insight into performance and what lies ahead is invaluable. Staying ahead of industry trends is important in any industry, but a mission-critical sector like healthcare stands to benefit greatly from making the best use of its data.   
If you are often left wondering how to take control of your own data and derive more actionable insights from it that can help your organization make better decisions, increase revenue, operate more efficiently, and improve patient care, then you should consider investing in an RCM platform that offers those never-before-seen insights.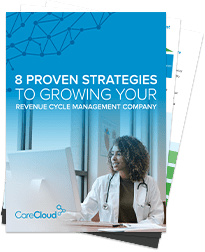 e-book:
8 Proven Strategies for Growing your Revenue Cycle Management Company
Download Now