Cloud computing is revolutionizing how providers and hospitals deliver affordable, quality patient care. Thus, clinicians must embrace it in some form to stay competitive in the industry. This guide lists the nine benefits of cloud technology in healthcare. 
Importance of Cloud Computing in Healthcare
1.  Supports Digital Transformation
According to a survey, 81% of providers say that 'going digital' is the top priority for accelerating healthcare facilities. Medium to small-sized practices have limited online presence, and transitioning to telehealth and EHR is the first step they can take towards digital transformation. Additionally, physicians can immediately benefit from cloud services regardless of their practice size. 
2. Streamline Electronic Record Keeping
Practitioners embrace integrating electronic health records (EHR) software into their practices. Traditional EHR software has many benefits compared to writing outpatient charts. While cloud-based EHR software makes it even better by making it convenient to connect patient charts to systems like patient scheduling and telehealth solutions.  
3. Enable Patient-Centric Approach
The patient-centric approach is the future of the healthcare industry as patients want to involve more in their care journey. Cloud technology like Telehealth solution makes it possible by giving patients access to health records that on-premise solutions cannot support. Following are some of the main benefits it unlocks for patients: 
Search for a suitable provider

 

Monitor charges

Send/receive text messages

Communicate via email

Schedule appointments online

Complete health-related documents online

 
4. Scalable Healthcare Solution
Self-hosted storage solutions come with limited storage capacity. If you want to increase it, you must purchase additional hardware and invest in software updates. However, cloud-based healthcare IT solutions like Telehealth come with a subscription-based model enabling you to scale up or down without buying new hardware. 
5. Improves Interoperability
For providing the best possible care, system interoperability is integral. Comprehensive cloud integration allows data sharing from healthcare applications, medical devices, and systems. So that providers and other authorized people can access the patient information. 
6. Enhanced Collaboration
The collaboration between specialists and general physicians is essential in providing value-based patient care. Cloud computing enables easy data sharing and seamlessly streamlines communication with providers. It allows specialists to make virtual visits to transfer their expertise on a case or a second opinion for better disease diagnosis and its treatment. 
7. Data-Driven Decision Making
Growing numbers of wirelessly connected devices and EHR systems contribute to more complex patient data. Cloud-based artificial intelligence (AI) and machine learning (ML) software like patient experience management software and Healthcare data analytics help patients compile and analyze data. It enables physicians to respond to public health threats and limit the spread of infectious diseases. 
8. Improved Data Security
Patient health information is more valuable to hackers than credit card information. Therefore, HIPAA emphasizes keeping it safe by using HIPAA-compliant secure EHR systems. Cloud platform providers like Microsoft Azure and Amazon AWS specialize in security. They also have dedicated resources and security protocols to ensure higher-level cybersecurity than on-premise data centers. 
9. 
Reliable Disaster Recovery
Whether because of natural disasters or technical faults, data loss concerns providers. It can bring new challenges for professionals in providing patient care. Moreover, it can also impact regulatory compliance. 
Cloud technology like patient management software ensures reliable disaster recovery protocols are in place for healthcare organizations. HIPAA requires facilities and clinicians to back up electronic patient health information in servers at multiple locations. 
Bottom Line
With cloud computing, providers can ensure security, interoperability, and reliable disaster recovery of patient information. It can help them be cost-effective, scalable, and better at communication to provide affordable, patient-centric service.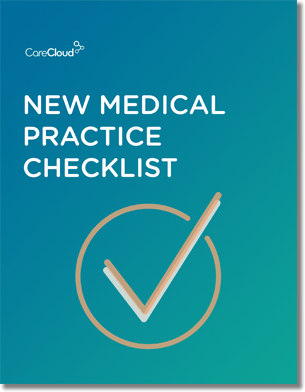 Do you know what you need when setting up a new medical practice?
Get our New Medical Practice Checklist
Download Now!