Buying new EHR software can be nerve wrecking.
Between design preferences, reporting capabilities and, of course, costs, it's easy to lose sight of the true objective: finding an EHR solution that will streamline care and help you attest to Meaningful Use.
To help keep you focused, the writers at PYP have compiled a list of the 8 most valuable features to look for when shopping for an EHR.
Easy Patient Scheduling
A comprehensive EHR should have appointment-setting capabilities that allow office staff to easily schedule patients, register them and choose a reason for their visit.
This EHR sends out automatic appointment reminders via email or text in order to reduce no-shows and ensure better collections. 
Intelligent Patient Workflows
Understanding how patients move through your practice is crucial to maximizing productivity.
The most useful EHRs track patient workflows in real-time to eliminate bottlenecks. Practice should never have patients sitting in the waiting room while a clean examination room is available.
Task Management Capabilities
Ensure your EHR can help you manage the ancillary, mundane tasks that inundate your daily schedule. A quality system will remind you to sign notes, review lab results, approve medications and answer patient messages.
By providing a cohesive view of what needs to get done, you won't waste precious time looking for misplaced charts, waiting by the fax machine or hunting for lost patient information.
Expedite Patient Encounters
We all know that one of the core objectives of EHR implementation is to speed up the patient charting process, allowing you to see more patients throughout the day.
Your EHR should make patient histories like medications, allergies, existing problems, immunizations or other key data points easily accessible.
The most successful EHRs let you quickly record clinical content so you can document normal conditions, and through a few simple mouse-clicks, document abnormalities, ultimately reducing both the time and cost of transcription. 
Templates and Order Sets
How many times a week do you treat different patients with the same condition? A practical system will allow you to build order sets and templates as you treat patients. Later, you can re-use these order sets when you see patients with similar diagnoses, dramatically saving time and speeding up the clinical encounter. 
Detailed Meaningful Use Reporting
We are in the age of big data and analytics. An EHR should give you real-time access to clinical and financial data, thereby enabling you to make the right decisions for your practice.
The ability to create detailed reports that show how you are tracking toward Meaningful Use across core and menu objectives is another EHR essential. This will give you insight into where you need to focus in order to attest to those much sought-after government incentives. 
Simple, Intuitive, and Attractive User Interface
With doctors spending one-third of their time using an EHR, the system should be designed to be natural and easy on the eyes.
Drag-and-drop capabilities and minimal screen openings will allow you to move through the system with a minimal number of mouse clicks.
The best EHRs document the entire clinical encounter on a single screen, without reloading any pages, thereby saving time and effort. 
24/7 Access From Any Device
Double-check that your EHR is accessible on both PC and Mac. You never know from what computer you'll be accessing the software.
If you're looking at web-based solutions, they need to be compatible with Internet Explorer, Chrome, Firefox and Safari internet browsers. Today's physician needs to be able to maneuver seamlessly through technologies. 24/7 access to patient records is a must, too.
We hope this helps guide you along your path to EHR fruition. We know the road is rocky, but as always PYP is here to guide you through the process.
Hankering for more information on purchasing the right EHR? We know it's a big step. Check out our Definitive EHR Buying Guide for more useful tips.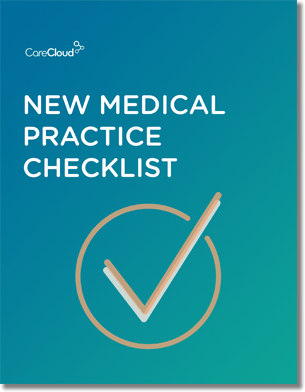 Do you know what you need when setting up a new medical practice?
Get our New Medical Practice Checklist
Download Now!