In early October, CareCloud's medSR division joined more than 180 live exhibitors at the 2022 Becker's Health IT + Digital Health + RCM Annual Meeting in Chicago to not only share the value of RCM with U.S. healthcare providers but also to learn about the information technology issues plaguing the healthcare industry, as well as the innovations shaping care delivery.
This guide will walk you through the eight lessons we learned by attending the annual event.
#1 The Arrival of At-Home Patient Care
Healthcare information technology is advancing quickly as new technologies develop and patients' preferences change. The pandemic forced the industry to accelerate technological advancements in digital solutions, and how the healthcare space moves now differ from the situation five years ago. And the future? It's bound to be different than what it is today.
The quick evolution of the digital health landscape has transformed normal day-to-day operations for physicians. Remote patient monitoring (RPM) and artificial intelligence (AI) allow patients to 'be seen" by a physician in their own homes. Not every healthcare service can be delivered outside of a hospital or clinic, but studies have shown that outcomes improve when medical care is offered at home under the right circumstances.
For example, physicians can now use cloud-hosted devices to monitor diabetes and hypertension in patients. What used to be a time-consuming process that needed three or four in-person appointments is now consolidated into a weekly five-minute chat between the doctor and patient.
As the industry charges toward a value-based care model, finding cost-effective connections that increase efficiency and improve outcomes in care will help enhance the accessibility and affordability of treatment.
#2 Telehealth and AI are Leading the Healthcare Transformation
The pandemic not only hastened the improvement of digital health solutions but also proved their necessity. Having access to essential digital health options removes barriers to social distancing, mitigating the spread of infectious disease. It also helps eliminate unnecessary in-person visits, which can help alleviate an exhaustingly large number of patients needing to be seen by a physician.
AI-assisted detection has become increasingly more secure, precise, and efficient compared to earlier methods. Predicting protein structure, therapy monitoring consciousness, and control of social networks and health through digital technology are among the well-known applications of AI in fighting COVID-19.
Telehealth could also play a key role in the planning and response of a crisis – like a pandemic – by enhancing access to healthcare, decreasing exposure to disease for both staff and patients, preserving the limited supply of personal protective equipment, and reducing demand for healthcare facilities by patients.
#3 Enhancing Care Delivery, Affordability, and Accessibility Through RPM
Kaiser Family Foundation's 2022 National Debt Survey reported that 50% of adults in the U.S. have trouble paying for healthcare expenses, so much so that they are without health insurance and not receiving the medical care they need.
RPM improves access to healthcare by reducing the required in-person encounters. Having a physician review certain health indicators remotely as opposed to in-person spares patients from high medical expenses and reduces the cost of transportation, loss of wages due to absences from work, and expenses related to child care or elderly care.
RPM devices that monitor heart rate, respiration, oxygen levels, blood pressure, and blood glucose can help prevent emergencies and enable patients and providers to be vigilant.  The devices alert patients and accountable care organizations about changes in health-related parameters and vital metrics, allowing providers to prioritize care delivery or tackle issues before reaching the point of crisis.
As a bonus, many RPM devices integrate with providers' electronic health record (EHR) systems, enabling a team-based care model that reduces administrative burdens and staff shortages.
#4 Chief Information Officers Now Play a Key Role In Front Office Decisions
The acceleration of digital transformation caused by the pandemic has also positioned chief information officers (CIOs) as decision-makers in the corporate boardroom – a shift IT leaders expect to last for many years.
Chris Bedi, CIO of a cloud-based software firm, said the pandemic demonstrated how digitalization is now the most critical business requirement, making CIOs' jobs more vital.
He added that before COVID-19, issues like corporate strategy weren't the primary responsibility of the majority of senior IT managers. With the rapid adoption of cloud computing, IT executives have created real-time information on rapidly changing markets, giving more weight to advanced analytics in the company decision-making process.
As business decisions increasingly depend upon cloud computing and software tech executives, they are evaluated based on their business performance rather than their roles as managers of IT systems.
#5 Digital Front Doors Are Improving the Patient Experience
The digital front door refers to how a patient digitally communicates with their primary healthcare provider. The digital front door enables patients to search for a physician, book an appointment using an online patient portal, and make a telehealth visit.
That's not all, though.
The digital front door is the healthcare industry's answer to the rise of consumerism. Since patients are now accountable for a large portion of healthcare costs, they have become discerning consumers who expect to interact with the care services the same way they interact in the hospitality or e-commerce industry. They're looking for multiple user-friendly points of contact.
"We're talking about the beginning of an entirely new experience in healthcare, where the future is that people are entering or constantly connected to their healthcare team and partner," said Summer Knight, managing director of Deloitte.
Knight reiterated that the relationship between people and their health team is now entirely different as it is now based on digital technology and can seamlessly transition across digital and in-person platforms whenever necessary.
#6 Digital Health Investment Red Flags to Lookout For
According to Becker's Hospital Review, digital health is one of the most talked-about issues in the health industry. New startups are entering the field daily, and it is becoming more and more important to investigate and evaluate potential investment areas.
To identify red flags, ask these questions:
Is the device being promoted for the right reasons?
Is it being promoted to solve a problem doctors or patients are suffering from?
Can it fill a gap in the current market that could positively affect those we care for?
Another area to explore is how the products are being developed. Is the product being driven by outstanding business leaders? Does it have skilled engineers behind it who know how to integrate the product with existing systems? It is important to invest in a product that is built to solve issues – NOT create more of them.
Finally, determine whether the projected cost is realistic. Make sure the company you're planning to invest in has leaders and founders who understand it isn't just about getting consumers to buy the product, but also about getting the consumers to use the tools, which impact the potential return on investment.
#7 The Questions CIOs Need Answered When It Comes to the Future of Healthcare
CIOs in the healthcare industry today face unique barriers, as they navigate through healthcare digitization while maintaining telehealth on a large scale. Becker's Hospital Review asked CIOs what questions they needed to be answered to help them make better decisions when it came to healthcare transformation.
How are other CIOs preparing their teams and companies for the future of healthcare?
How can we continue to accelerate the adoption of the latest technology (such as AI) for the improvement of patient outcomes and caregiver efficiency; and build on the modern hybrid workplace in a manner that promotes the resilience of organizations, innovative thinking, and a healthy culture?
Do you think it is time to accelerate the introduction of the public cloud to healthcare providers?
How can we ensure a fair experience for all employees within an evolving, hybrid workplace?
What is the best way IT can assist an exhausted COVID-19 workforce?
#8 The Need for Clinician Technologists
At the Chicago event, we learned that Becker's Hospital Review asked Matthew Kull, CIO of Cleveland Clinic, what he thinks about tech-savvy healthcare and how it has changed.
Kull replied that three years ago, a doctor called him in response to a message Kull posted on an online bulletin board concerning something the doctor was considering in data science. The doctor had some ideas about machine and deep learning and wanted to talk with Kull to explore the doctor's vision. At that point, Kull realized that times were changing, and the shift toward developing curated tools and datasets can now be seen.
For this reason, we should not only offer tools to nurses and doctors, but also offer knowledge about these tools to allow the healthcare space to develop faster.
Bottom Line
The healthcare space is transforming quickly, and innovation is at an all-time high. It is up to every role in the healthcare industry to keep up, stay informed, and stay vigilant – for the betterment of healthcare providers and patient care. Whatever digital health solutions you are looking for, CareCloud has you covered. We offer an extensive suite of modern, cloud-based clinical, financial and administrative software and services that has empowered U.S. healthcare providers for more than two decades.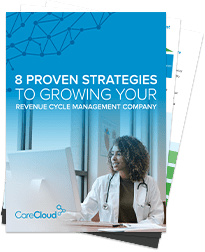 e-book:
8 Proven Strategies for Growing your Revenue Cycle Management Company
Download Now