Revenue cycle management can be complex in any industry. Billing, insurance confirmation, eligibility determination, pre-authorizations, claims submission, and post-payment collection are all included in revenue cycle management. Healthcare revenue cycle management is an important process as it affects the financial success of healthcare organizations.  
In this value-based care delivery model, providers can focus on providing high-quality patient care with the help of an effective and efficient RCM process. It helps organizations maintain timely income, consistent collections, and financial viability.  
RCM aims to guarantee that payments are consistently and promptly received and that patients are immediately billed for services. In addition to ensuring that patients receive high-quality care, a properly managed RCM process can help healthcare organizations become more financially stable. 
Revenue Cycle Management in Healthcare Financial Management
The main aim of revenue cycle management (RCM) is to increase the financial success of an organization. Since it enables them to provide value-based care and treat more patients, RCM has become a crucial approach for healthcare providers. Increased revenue enables clinicians to devote more resources and time to patient care.  
It also makes sure that patient data and coding are accurate on submitted claims, which not only boosts income but also lowers the possibility of insurance claims being denied. Providers save time and money by not having to track refused claims and file an appeal. This helps save a ton of time and money. This is why revenue cycle management is such a huge part of the healthcare industry. 
Improving Healthcare Revenue Cycle Management
There are numerous phases in the revenue cycle, and each one is essential to ensuring fast provider reimbursement. These processes need to be done swiftly for faster reimbursement. Because of this, service providers must improve where they can. Some of the ways to improve the healthcare revenue cycle are: 
Appointment Scheduling 
It's important to make sure you're getting the proper number of patients in order to maximize revenue cycle efficiency. Making it simpler for patients to book their own appointments and reminding them to arrive on time are two ways to make it better. An efficient practice management software can also help address issues and enhance revenue cycle management. CareCloud's practice management software has a strong patient interface for self-scheduling and gives automatic reminders, encouraging patients to be on time for their appointments.   
Verification of Payment
When a patient schedules an appointment with your practice, your staff should validate their insurance and determine their preferred method of payment.   
Due to its convenience and familiarity, accepting payments online is a useful strategy for practices to encourage on-time payments from their patients. Your patients will respond better the easier and more accessible your payment method is for them. 
Automate Patient Eligibility Verification 
Patient eligibility is a chore that can be easily transferred from your staff to an AI, increasing productivity in your practice. By checking patients' eligibility for treatment in advance, you'll lower the number of claims that are denied. Staff members can spend more time working on tasks that genuinely call for a human touch when they can avoid monotonous and repetitive labor. Additionally, as individuals perceive the greater significance of their tasks, their morale often rises.  
Claims Processing 
The process of claims scrubbing involves ensuring accurate, correct, and complete claims are submitted to insurers. It increases the likelihood of receiving payment on time. Modern technologies have made claims cleansing instantaneous as opposed to the time-consuming and laborious manual effort that it once required. Simply put, there is never a reason for your practice to submit a claim that your internal clearinghouse hasn't been reviewed.   
Manage Claim Denials 
Denied claims can be reduced with planning and close attention to detail. Hiring professionals to handle your revenue cycle management can lead to a 99% first-pass acceptance rate.  It's also crucial to follow up on claims that have been rejected. Many rejected claims get misplaced and never submitted again, costing medical practices money. 
Outsource Medical Billing 
One of the simplest ways to enhance your billing procedures is to outsource medical billing to professionals. Working with vendors is simple, effective, and entirely relieves you of the stress of revenue. To collect more charges and speed up payment, your revenue cycle vendor will find ways to increase the efficiency of your processes. CareCloud's RCM comes with a team of experts that know the ins and outs of revenue cycle management, ensuring an increase in practice revenue. 
Conclusion
Your healthcare practice needs effective revenue cycle management to maintain its financial health. The goal of effective revenue cycle management for any hospital or healthcare system is to ensure payments are collected while having the least possible negative impact on the organization's ability to deliver care. An organization can decrease the number of errors and pointless operations, lighten the workload of administrative employees, and shorten the time it takes to process and collect payments by streamlining and optimizing this payment cycle. Contact CareCloud today to take your practice to the next level!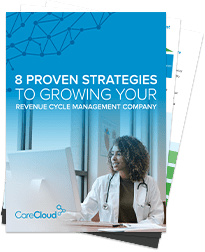 e-book:
8 Proven Strategies for Growing your Revenue Cycle Management Company
Download Now