This is the third in a series examining how medical groups are appealing to patients as consumers. The first post introduced the concept of patient experience management (PXM), an emerging category that represents the sum of all experiences a patient has within their healthcare journey. We continued with an exploration of the 4 stages of PXM strategies, with each stage creating more convenience for patients, staff, and providers. In this final post, we will explore some real-life examples of PXM in action.
What does delighting patients look like?
Outside of helping patients live to their optimal health, it is about making their every interaction with the medical practice easy and enjoyable. It's about running a practice without burying patients and staff in paper. It's about making scheduling, checking in, checking out, payment, and surveys fast, simple and convenient. It's about allowing patients to self-serve as much — or as little — as they want, when and how they prefer. It's about giving back time to staff that they can use to focus on the people coming into the practice, not their paper. Medical practices are beginning to embrace the principles of patient experience management (PXM) and looking to technology to support this distinctly human need.
Using technology to streamline patient administrative tasks is nothing new. Practices have been relying on a set of different tech solutions to handle different activities — adding on helpful tools as they become available and as they can fit them in their budget. Technology for medical practices has finally grown up and is allowing managers to say goodbye to the Frankenstein approach of stitching together different tools that don't talk to each other and require a lot of manual work on the back end to reconcile. The arrival of PXM as a technology platform is a game changer, helping practices realize the productivity and revenue gains that have been elusive.
Real Stories of PXM Success
Delivering a No-Wait Waiting Room
In pediatric and family medicine, the needs of kids come first, with practices filled with toys and cheerful waiting rooms. Like many practices, South Georgia Primary Care found that too much paperwork was distracting and frustrating parents and contributing to a takeover of the waiting room by unattended children. Dr. Rachel Glass explored an integrated solution that would simplify and shorten patient check-ins and improve the payment process while integrating the practice EHR and PM systems to find new time savers for both patients and staff. As a result, patient intake times came down to as little as 2 minutes, with "much less fuss" in the waiting room and happier patients entering the exam rooms.
Reducing Patient Frustration with Repeat Questions
The one thing patients dislike more than filling out paperwork is filling out multiple sets of paperwork asking the same questions! At Academic Allergy & Asthma Center, Dr. Eisermann-Rogers saw that patients were entering her office unhappy having been asked the same questions repeatedly on the intake system, only to be re-asked them in the exam room. Moving to a streamlined and integrated intake process as part of an overall patient experience platform enabled Dr. Eisermann-Rogers to customize the intake questions and have them pre-populate into her EHR and PM. Now, clinical time at her practice is focused on improving patient care – not repeating questions.
Creating a Paperless Practice
Like most practices, Poplar Bluff Urology was drowning in paperwork. Patients had to fill out long intake forms, plus all the consent forms necessary for surgery. Patients were introduced to the idea of completing intake on an easy touch-screen tablet prior to their appointment as a way to create a "paperless practice." As a result of the streamlined intake and documentation of a unified platform, Dr. Amit Chakrabarty is able to spend more quality time with patients and immediately move on to others, freeing up time to see more than 10 additional patients per day.
Giving Patients Tools to Manage Their Care
Intake is just one piece of the puzzle that can be improved with a comprehensive PXM platform. Patients want the same level of convenience for appointments, check-in, and even payments. With an average of 40% of billings now coming from patient out-of-pocket expenses, delivering on convenience for patient payments is important. At LifeArts Integrated Health Care Center, Dr. Julie Howard used PXM to deliver on all fronts, moving no-shows from 66% to 0.9% thanks to online check-ins. With the ability for patients to check and pay their balances on their own devices and integration with PM + RCM services, LifeArts is now collecting 27% higher total billings.
Increased Patient Collections
With patients now carrying more financial responsibility for their balances, patient collection strategies play a key role in practice profitability. At the Heart & Vascular Institute, the collection of patient balances relied heavily on the knowledge and skill of office staff. Within three months of implementing a PXM solution, patients could view and manage their own accounts and began paying down balances they didn't even know they had.
To get started on PXM, practices can follow these simple steps:
Invest in a single, cloud-based platform to help you move along all 4 stages of PXM
Implement level 1 PXM solutions as 'quick wins' that require very little in the way of additional resources, cost or staff time. These include online appointments, simplified payment processing (credit card, Apple pay), and secure messaging.
Roll out complementary level 2 PXM solutions such as digital check-in and payment plans
Develop a 3-year plan to move up all 4 stages of PXM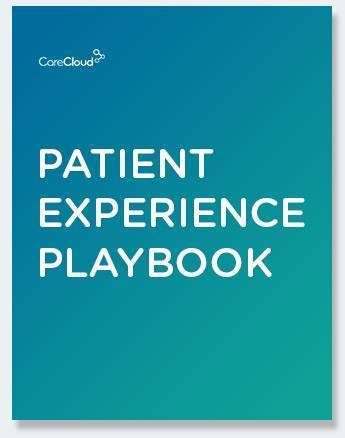 Download the Patient Experience Playbook
Insights into every aspect of the patient journey
Download Now!