With the passage of the HITECH Act in 2009, the number of health IT vendors has skyrocketed as a result of a more technology-friendly healthcare environment. And although market competition has eliminated some, there are still plenty of vendors out there vying for your business.
The number of options makes it difficult to decide which vendor is going to work well for your practice. But if you take these three vendor characteristics into account, the decision should be much easier.
Using the Latest Technology
No one wants do laundry on a washing board instead of a washing machine. Nor does anyone prefer to use dial-up Internet when wireless is a much faster alternative. So why would anyone want to sign up with a health IT vendor who isn't using the latest technologies?
Cloud-based IT vendors offer numerous advantages over vendors who still rely on the client-server model. For one, cloud solutions are often cheaper at start-ups since they don't require expensive hardware and installation costs.
Also, cloud-based vendors are usually better when it comes to keeping software up-to-date. The cloud allows them to make updates system-wide, so users are always using the latest versions. Client-server vendors can't offer upgrades as quickly and often have to charge a fee for them.
In-House Engineering
The healthcare industry's newswires are constantly ablaze with stories about companies acquiring others just to add another product to their software suite. For example, an EHR vendor acquiring a smaller practice management vendor to broaden their market reach.
While there's nothing wrong with capitalism, merging solutions from different vendors can get sloppy. There are often gaps between the two solutions that can't ever be mended, leaving you with disjointed software.
Health IT vendors that develop their own software solutions in-house have an advantage here. All solutions are created by the same development team, meaning they work seamlessly together from the beginning.
Excellent Support Capabilities
Even the most user-friendly EHRs take some getting used to, so it's important to look for a vendor that doesn't abandon you after installation. Any potential vendor should be able to produce a timeline that shows approximately how long it will take to become fully acclimated to the new software. Then, they should help guide you along the process from beginning to end.
The best vendors dedicate an implementation specialist to your practice. The specialist becomes the contact person during the implementation process, which creates a more personal relationship between the vendor and your practice.  In addition to this, a good vendor will also supply demos and webinars for self-training.
Live support is a handy tool to have available when you have software-related questions. Don't forget to ask the vendor how long it typically takes to resolve technical problems.
Throughout the purchasing process, you'll see that all vendors put their best foot forward. The key is seeing through what they want you to see and getting to the issues that really matter to your practice.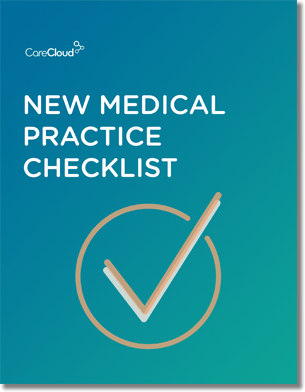 Do you know what you need when setting up a new medical practice?
Get our New Medical Practice Checklist
Download Now!