Smartwatch prescription ordering, wearable bands that check patients in, and 'digital doctors' are the future, a new healthcare trends report says. No, machines are not replacing humans — think more along the lines digitally-enabled physicians, such as surgeons who see patient vital signs in real-time on their Google Glasses.
These are just some of the major changes forecast in the Accenture report "Healthcare IT: Top 5 eHealth Trends Reshaping the Industry in 2015."
Their predictions include:
#1. "The Internet of Me" – Healthcare experience becomes more personalized and more convenient for patients.
49% of patients are willing to wear digital device to measure fitness and vital signs.
#2. The Internet of Things — Healthcare disruptive technology produces highly connected hardware that increases access to care, patient engagement, and clinical collaboration.
76% of patients believe health management technology could improve their health
#3. "The Platform (R)evolution" — Smarter healthcare platforms provide patients with real-time health information and more self-monitoring through mobile devices.
54% of patients report health monitoring is their #1 reason for using mobile phone apps
#4. Cognitive Tech, Big Data and Health Analytics — Technology could help diagnose a rash, confirm a fever and grant patients greater access to their medical records.
52% of patients want to access physician notes on their electronic health records
#5. Workforce Transformation — Technology enables providers to be more efficient, handle more complex tasks and improve patient care.
66% of U.S. health systems plan to offer digital self-scheduling by 2020
Want to learn more about how digital will 'dramatically influence' healthcare? The report comes with a Healthcare Technology Trends infographic.
CareCloud's open healthcare platform aims to drive these and many other digital innovations into the future.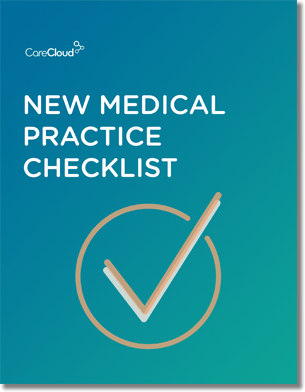 Do you know what you need when setting up a new medical practice?
Get our New Medical Practice Checklist
Download Now!